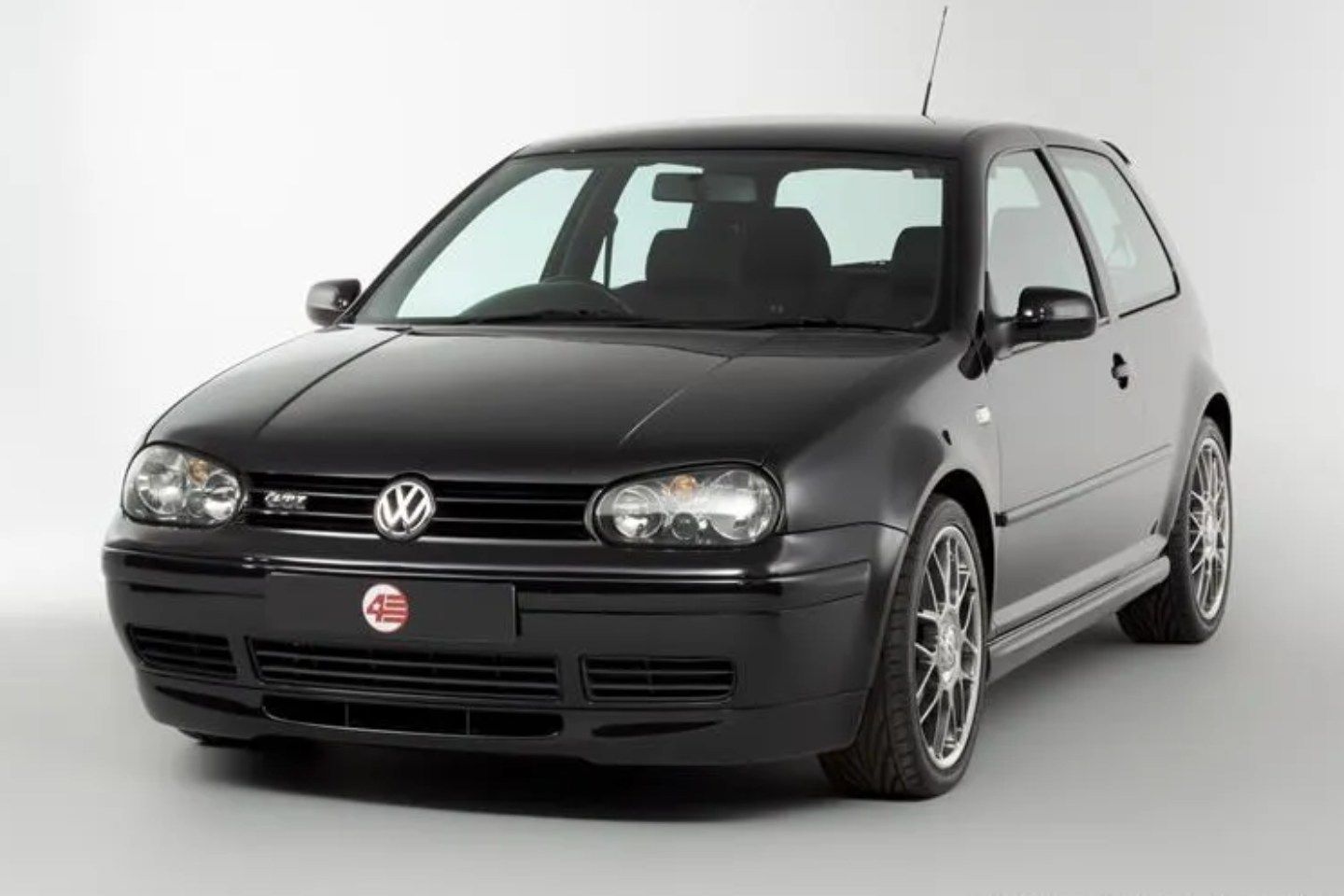 Last year we did a PH Origins piece comparing the Mk4 Golf R32 with the current Mk8 Golf R 20 Years edition. The R32 is an interesting car, and its party piece, of course, is that warbling V6 up front. The trouble is finding a Mk4 R32. They are few and far between in the PH classifieds right now, with just two showing when I was looking. But while I was hunting, I did find a cheeky alternative. It's this Mk4 Golf GTI 25th Anniversary model.
It's a tidy thing, too. As if to prove the claims that Mk4 Golfs were more resilient than Superman in a suit of armour, this one's covered just under 100,000 miles and can you tell? I can't, having checked the photos with my beady little eye. Actually, that reminds me, I've been meaning to book an eye test for ages. Anyway, the car. Regardless of my eyesight, it looks pristine.
The Recaro seats are nothing like as spectacular and wing-backed Konig items in the R32, but they are unmarked. On which note, I am wondering whether the rear seats, which are also marked up as Recaro, were actually changed over the standard ones? I can't recall ever reading a description of a car that said 'Recaro front and rear seats' can you? If you bought one of these Anniversary models new, there could be a compensation claim there, bearing in mind the way things are these days. Maybe not one that'll trouble VW's accountants in the way that Dieselgate did, though.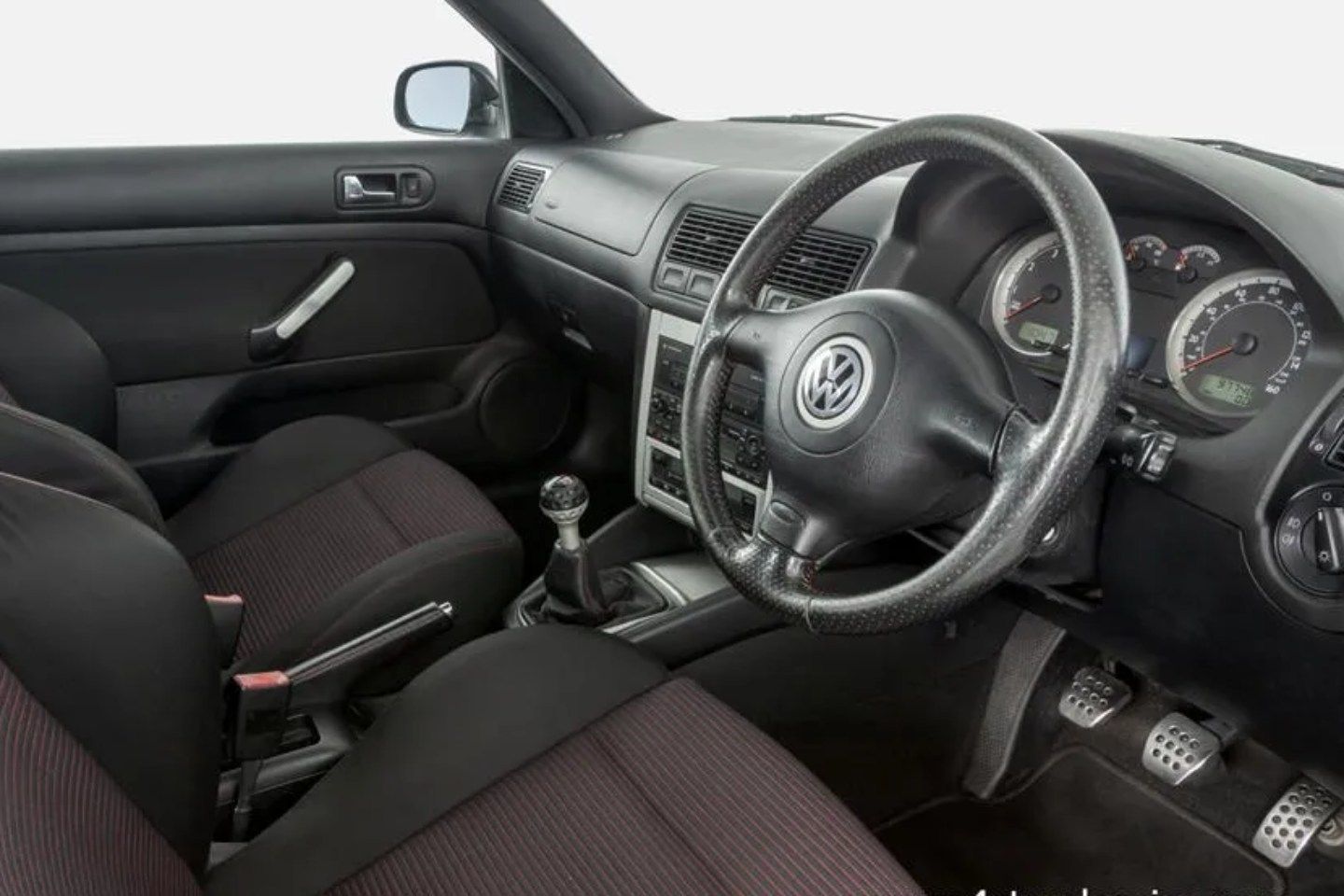 As for the rest of the interior, if anything it looks snazzier than the R32's. It's brightened up no end by the orange embroidery and red strips and stitching on the seats. You even get rouge edging on the seatbelts. Otherwise, it's very similar to the R32's, with brushed ally trims and pedals, and a similar effect around the dials. It also has the same leather-wrapped three-spoke steering wheel (albeit with perforated leather here), and the very latest (for the time) gadgets. For example, there's Climatetronic temperature control, a digital radio cassette and a centrally mounted six-disc CD changer. No sat nav in this one, though, which is probably for the best. The R32's sat nav was so old that the only roads it loaded up were arrow straight, lined with plain trees and had signage in Latin.
From the outside, this 25th Anniversary doesn't look quite as butch as the R32. That's because the R32 came with a deep, cats-eye-grazing chin spoiler and twin pipes poking out the back. The 25th Anniversary comes with just the one fat pipe, and these days seeing such asymmetry looks a little odd – even today's lowliest four-pot hot hatches are almost guaranteed two pipes at the rear. The car still implies a sense of purpose, mind, thanks to its own bespoke body kit, darkened headlights, red calipers and lowered sports suspension.
Just like the interior, the exterior of this one looks A1. The Diamond Black paint (it was either that, Tornado Red and Reflex Silver) gleams, and the model-specific 18-inch BBS wheels seem to have avoided the worst of the kerbs. Behind them, you'll find bigger discs, which were vented at the back. Being a post-2001 Mk4 GTI means it also has an extra 30hp over the earliest Mk4 GTIs, boosting peak power to 180hp. That's a long way shy of the 333hp the R32 makes, but having driven this 180hp motor in the original Octavia vRS – for another PH Origins story – it felt fast enough.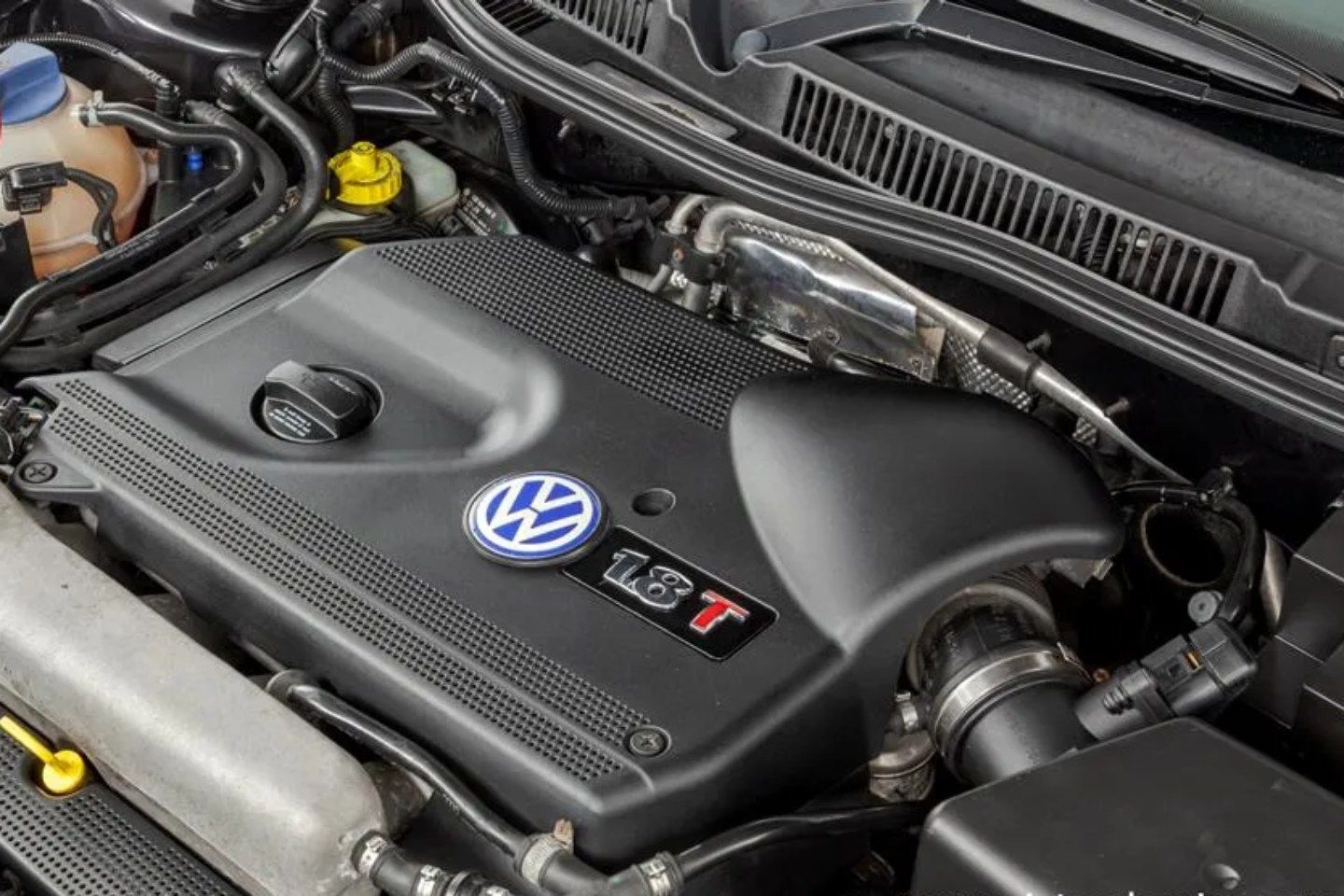 Of course, the Mk4 Golf's portliness is well-known, so one advantage here is that it doesn't amplify that with a heavy four-wheel-drive system and lumpy V6 over the nose. That weight issue means you can miss an apex or two, or three, in the R32, and while the lighter 25th Anniversary is unlikely to satisfy the most demanding hot hatch drivers, it should be a little more alacritous.
So there you go. It might not be the most sought-after Golf GTI, but it's still a limited-run model – this one is number 260 of 1,800 made  – built to celebrate the genesis of the hot hatch. That has to give it some worth, and yet it's not priced at silly money. And like all Mk4 Golfs, it's certainly a good-looking thing to have on your driveway.
Specification | Volkswagen Golf GTI 25th Anniversary (Mk4)
Engine: 1,781cc, four-cylinder, turbo
Transmission: six-speed manual, front-wheel drive 
Power (hp): 180 @ 5,500rpm
Torque (lb ft): 173 @ 1,900-5,000rpm
CO2: 202g/km 
MPG: 33.6 (NEDC)
Recorded mileage: 98,000
Year registered: 2002 
Price new: N/A
Yours for: £8,995