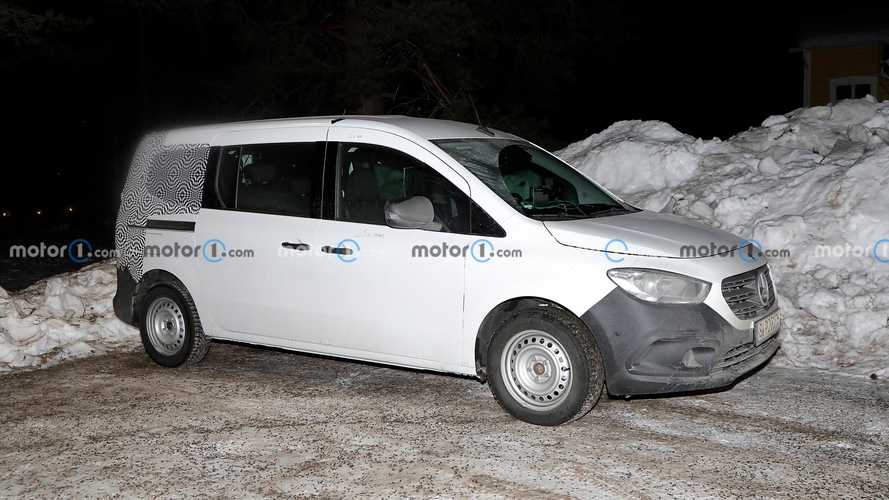 The Mercedes-Benz Citan just debuted its second-generation series barely two years ago. Now, spy shots reveal that it is about to get a major facelift. A stretched variant of the model was recently captured on cam while testing on snowy roads, too.
Based on the spy shots by Motor1, the most compact van offering of Mercedes is keeping its frontal design. However, there seems to be a subtle change on the D-pillar and all the way down, judging from the way that all the camo is concentrated on the said part.
Meanwhile, the long-wheelbase version of the van appears to be extending its revision on its cargo doors as well, looking at how the wraps conceal everything in that area. Although we have no idea about the length and cargo space of the Citan LWB, the source claimed that it's enough to give way to a seven-seat configuration in its passenger version.
The rest will be the same as the predecessor of the Renault Kangoo-based van. With that, we also expect the powertrain to remain untouched in the facelifted and LWB models of the vehicle. At present, the power configurations of the Mercedes-Benz Citan include several 1.5-liter diesel engines with outputs ranging from 74 hp to 114 hp plus 1.3-liter gasoline turbocharged engine variants with outputs of 101 hp and 129 hp.
Furthermore, there's the eCitan packing an electric motor powering its front wheels. The setup is capable of producing 120 hp with an electric range of 177 miles from a full charge based on its WLTP cycle. It remains to be seen whether or not the Citan LWB will get an electrified version, too.