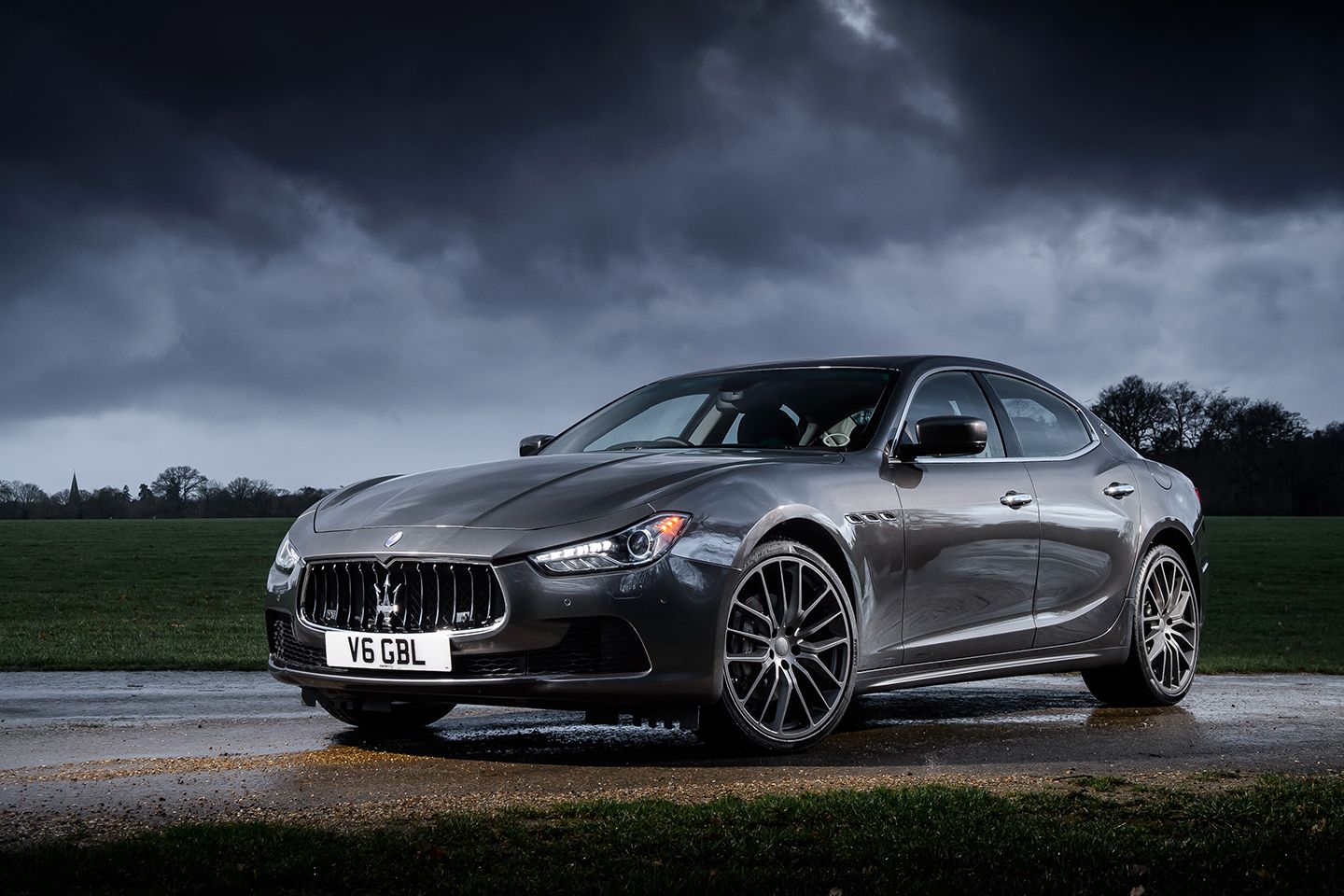 Key considerations
Available for £14,500
3.0-litre V6 petrol twin turbo or 3.0-litre diesel, rear-wheel drive
Lovely to look at and sit in
The later the car, the fewer the issues
Depreciation is your enemy (if you own one)
Depreciation is your friend (if you want one)
A diesel Maserati? The very idea! But that's exactly what we got in 2013 when the third generation Ghibli was announced at the Shanghai motor show. Phrases like 'third generation' normally imply continued production, but in the Ghibli's case there was a 19-year delay between the demise of the first Giugiaro classic Ghibli, launched in 1967, and the birth of the Gandini-designed, Biturbo-platformed 'replacement' in 1992.
The wait for the current model wasn't quite as long at a mere 15 years, but by this stage the relationship between the third Ghibli and the two that went before it was more or less down to the name alone. Whereas the first two Ghiblis were two-door coupes, the gen-three was a four-door saloon based on a shortened version of the Quattroporte platform (steel with aluminium front subframes) and with Ghibli suspension settings and wider tracks.
All three of the new car's engines were 3.0 litre V6s. One was the aforementioned diesel, Maserati's first, based on an FCA (ok, Jeep Grand Cherokee) VM Motori unit, developed by Maserati under the supervision of a Ferrari engine guru to produce 275hp and 443lb ft. The two 60-degree V6 petrols were both twin-turbocharged, generating 350hp/369lb ft in base trim or 410hp/406lb ft from 1,750-5,000rpm in the first 2014 model S, which in the UK commanded a price premium over the base model of more than £10k. All Ghiblis were rear-wheel drive. In some markets there was a 60kg heavier all-wheel drive Q4 version of the S, but the UK wasn't one of them.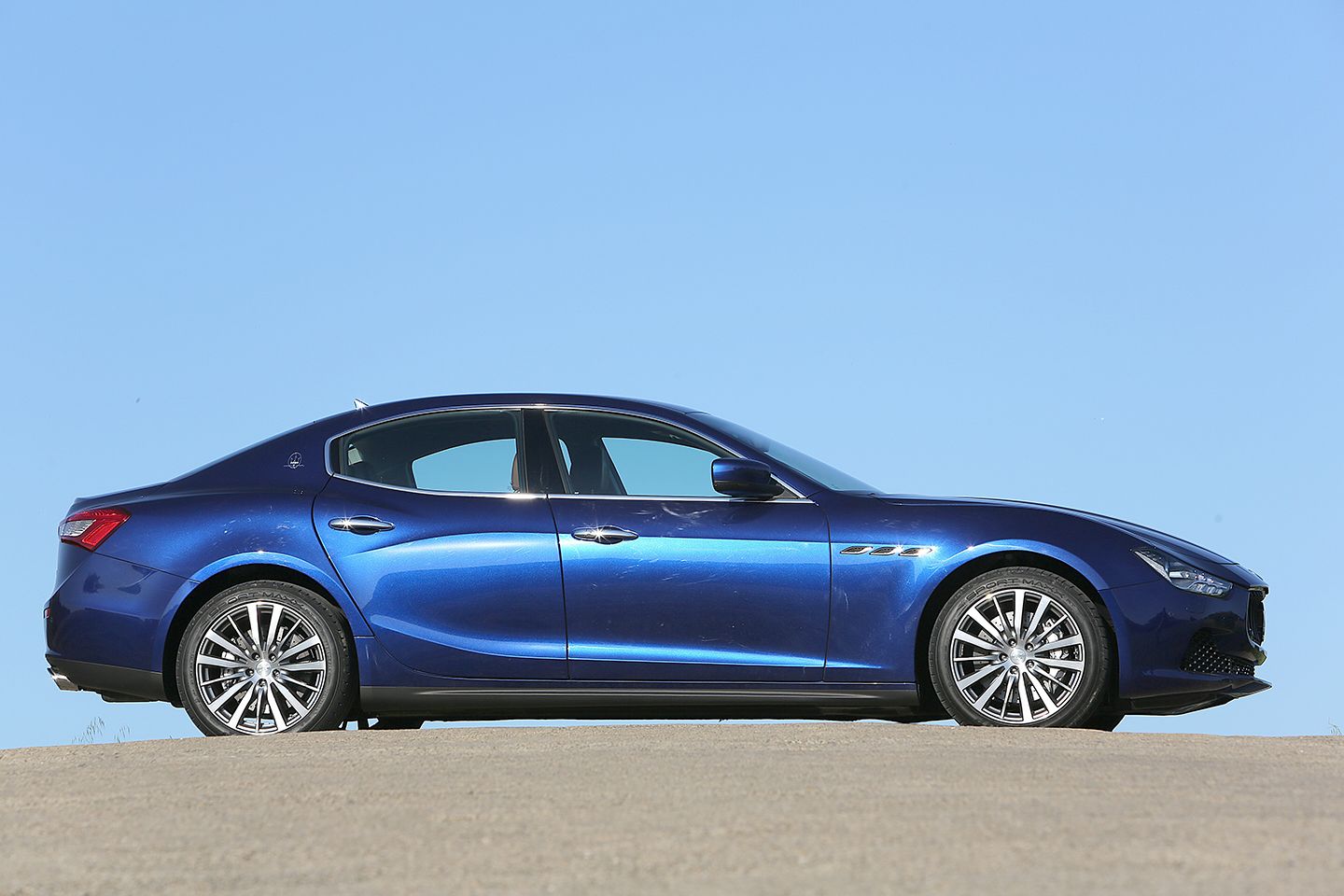 Welcome advances in the infotainment department were made in 2016 and again in 2017 for 2018MY cars when some biggest changes were made. There were two new trim levels: GranSport with more carbon fibre and piano black, and GranLusso, which was more traditionally luxurious. The outputs for the S went up to 430hp/428lb ft and the CO2 emissions went down from 254g/km to 223g/km. These 2018MY cars also had a new central floor console with a new gearshifter, drive mode select buttons and better cupholders.
Annoyingly, the S was dropped from the range in 2018, which combined with the general withering away of the diesel from most manufacturers' ranges meant that the only Ghibli you could buy new in the UK at that time was the base 350hp car. Then in 2020 Maserati released a mild hybrid Ghibli powered by an Alfa-supplied turbo 2.0 four petrol engine linked to a 48V system for a combined power figure of 330hp and a torque output of 332lb ft. They reckoned this would offer the performance of a V6 petrol (0-62 in 5.6sec, 158mph top speed) with 25 per cent fewer CO2 emissions, putting it on the same level as a V6 diesel in that regard. There was another upgrade to the infotainment at this time with a move up to a 10-inch touchscreen and voice control for some functions. Prices for that 2.0 hybrid started at just over £58,000.
Also in 2020, new Trofeo range-toppers were announced for both the Ghibli and the Quattroporte. Powered by a Ferrari-derived 3.8 litre twin-turbo V8 closely related to that used in the Portofino and Roma, it generated 580hp, 538lb ft and (in Ghibli guise) a sizeable price premium, lifting it to £110k. The Ghibli Trofeo remained rear-wheel drive and had Skyhook adaptive damping as standard. The near two-tonne weight limited its 0-62 potential to 4.3sec, nearly a second slower than the all-wheel drive BMW M5, but to make up for that Maserati let the reins off the top speed which was a barmy 202mph. The Trofeo also benefited from the 2020 hybrid's infotainment updates.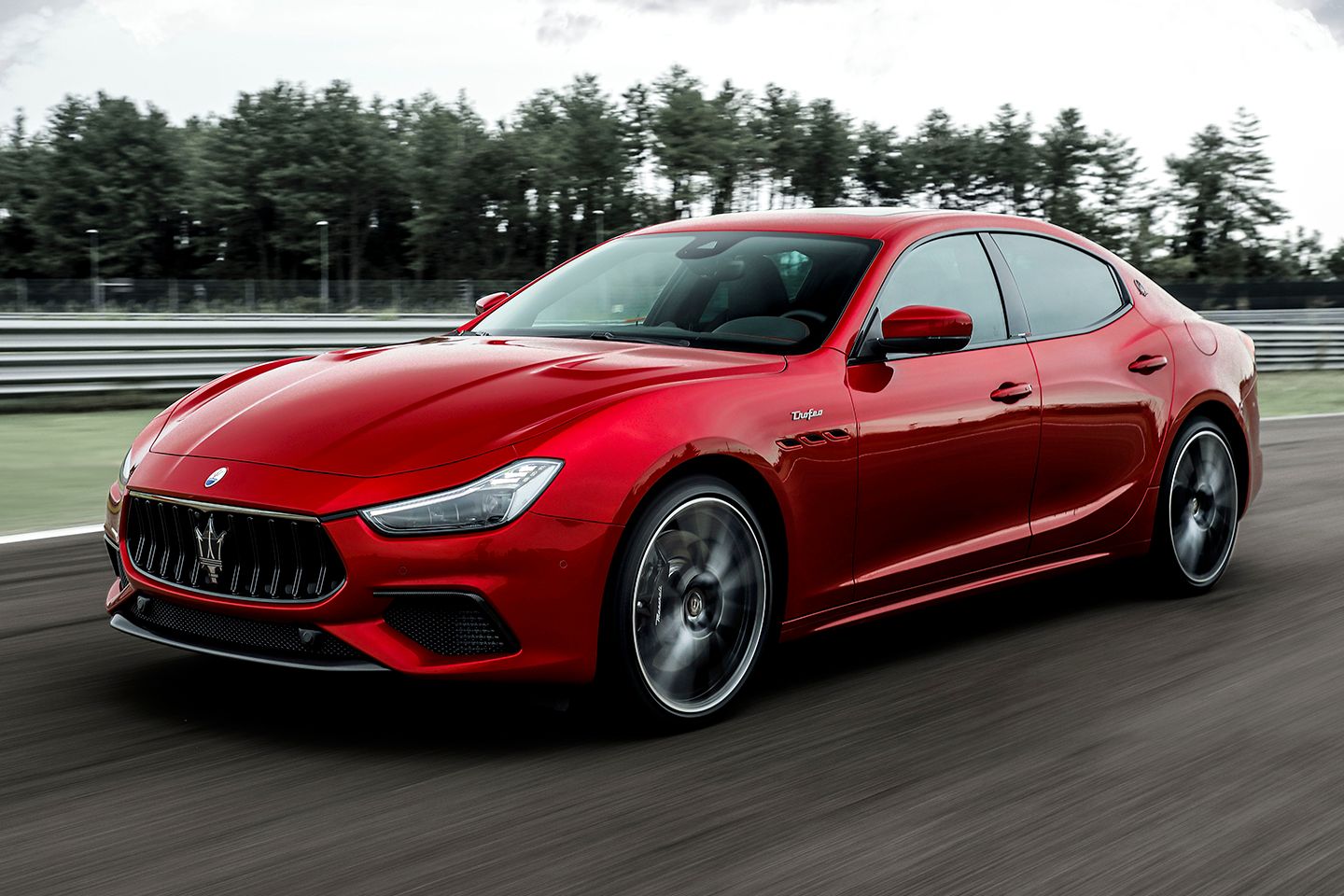 Earlier this year (2022) Maserati announced that its sales had risen by 41 per cent in 2021, with the Ghibli accounting for 33 per cent of those. They also said that Maserati would be the first luxury brand to go 'all EV' by 2025, as a precursor to which they would be adding three new electric cars to the range – including a GranTurismo coupe – in 2023, which is rumoured to be the Ghibli's final year.
Nine out of ten gen-three Ghiblis sold in Europe took their sustenance from the black pump, and they were the biggest sellers in the UK too by a factor of about two to one (lumping both the petrols together as the one). However, you'll find a pretty even split between petrol and diesel on the big classified sites right now (mid 2022), suggesting in these fuel-critical times that owners of diesel Ghiblis are holding onto them more assiduously than owners of petrol ones.
The specs below refer to the 410hp petrol S because, well, this is PH isn't it. The S was just under £70k new, compared to just over £58k for the regular V6 petrol and a little over £50k for the diesel, a price that made it the cheapest new Maserati you could buy. These are still big numbers for what is after all a big car, but if you take a squint at the secondhand market you might be in for a shock. You could have a Ghibli on your drive for under £15,000. Yes, you read that right. Whether you would want to is the big-dollar question. Let's have a dig around in the Ghibli closet to see what skeletons might be hiding there.
SPECIFICATION | MASERATI GHIBLI S (2014-on)
Engine: 2,979cc V6 24v twin turbocharged
Transmission: 8-speed automatic, rear-wheel drive
Power (hp): 410@5,500rpm
Torque (lb ft): 406@1,750-5,000rpm
0-62mph (secs): 4.9
Top speed (mph): 177
Weight (kg): 1,810
MPG (official combined): 27 (29 for base model)
CO2 (g/km): 254
Wheels (in): 19
Tyres: 245/40 (f), 275/40 (r)
On sale: 2014 –
Price new: £69,775
Price now: from £14,500 (base car), £18,000 (S)
Note for reference: car weight and power data are hard to pin down with absolute certainty. For consistency, we use the same source for all our guides. We hope the data we use is right more often than it's wrong. Our advice is to treat it as relative rather than definitive.

ENGINE & GEARBOX
The aluminium blocks for the Ghibli's petrol V6s were cast in Indiana before being machined and assembled by Ferrari. One way of telling the difference between an S and a non-S engine was by looking at it. The 'V6' atop it was silver in the 350hp base car and blue in the 410hp S. The other way was to drive them. Both V6 petrol engines were smooth and rich in character but the extra urge of the S was obvious. Even so, something like an E63 Mercedes would kill it in a straight race.
That wasn't the only way a Ghibli could die. Problems with faulty oil pumps caused oil starvation and/or shards of metal in the sump, potentially leading to engine seizure in cars that had typically covered fewer than 30,000 miles. Misleading oil pressure sensors didn't help. These would ignite a warning light on the dash that would generally go out ten minutes later, hardly ideal for your peace of mind. Engine blowups requiring a full motor replacement were quoted in the US at $39,000 installed.
Of course there have also been plenty of reports of cars with higher mileages that have had no problems. The engines were updated in 2018 and it's thought that cars of this date or newer shouldn't have this potential issue. These uprated S cars could churn out some noise from the wastegate, but they all did that sir.
The diesel was decent enough, offering a 6.3sec 0-62mph time and a potential 50mpg with 158g/km. 40mpg was perfectly attainable in real-world driving and low 30s were the overall norm for Ghibli-style use, compared to low 20s for the petrols. In refinement terms the diesel was pretty good, with a rorty edge in Sport mode, but overall it was still behind the admittedly superb BMW diesels that Maserati benchmarked. The eight-speed ZF box was tweaked for a better response with the diesel, but in auto mode it seemed to prefer revving out in the gears rather than making the most of the 443lb ft of torque between 2,000 and 2,600rpm. Using the lovely aluminium paddles in manual mode was a delight, but not every Ghibli diesel you'll find on the secondhand market will have them as Maserati rather meanly charged the first buyer nearly £250 for them.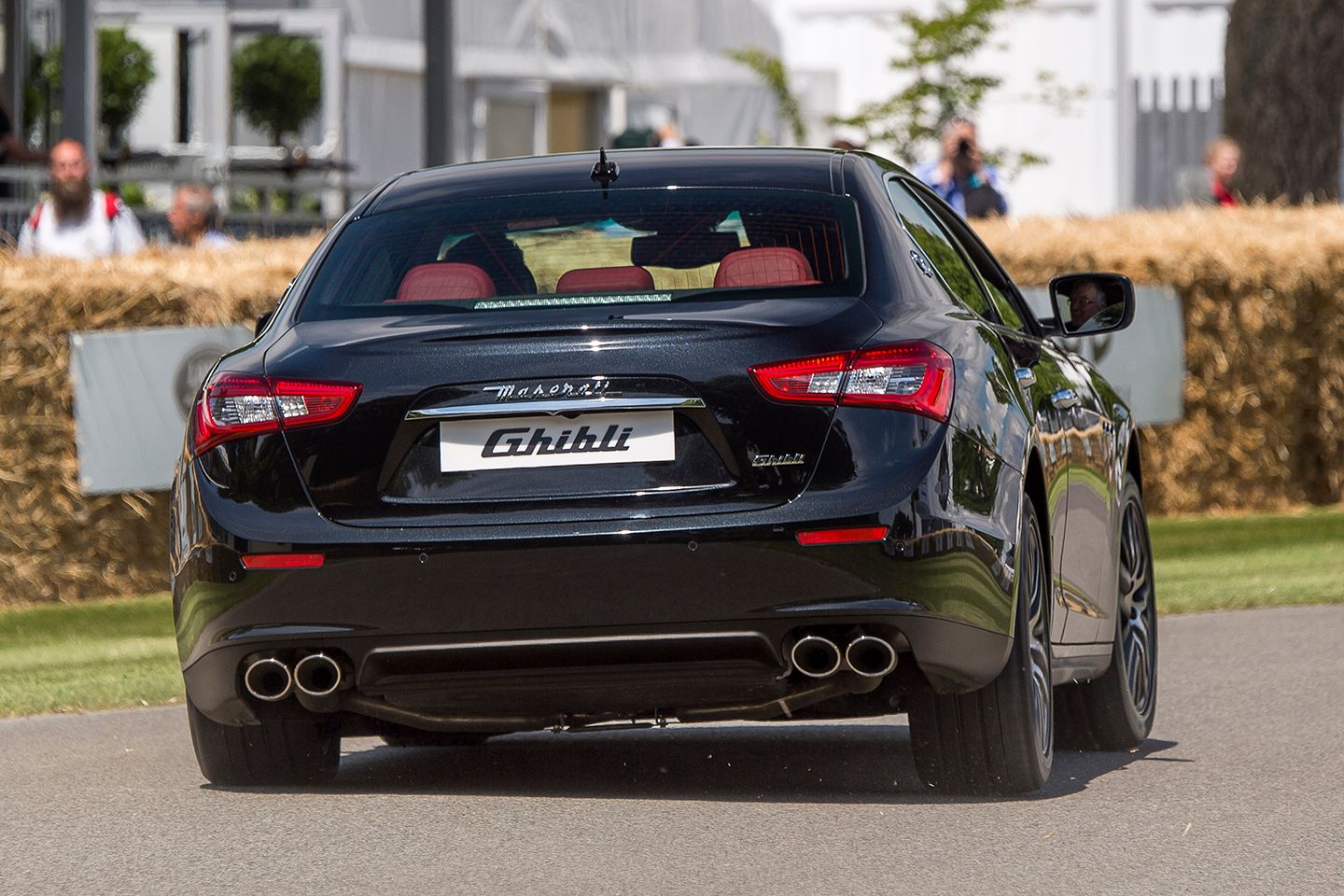 On early cars in particular there were quite a few software related problems, for example driving modes not engaging. You would ask for Sport mode and the response would be all the mode lights not lighting up out and a message telling you that the modes were shut off. A restart might or might not reset it but for some owners the only fix was a new switch module at over £600. Recalls have been carried out on leaky fuel lines, wiring short circuits in the driver's seat (oww!) and that even more effective bowel-loosener, the sticking throttle. Variable valve timing solenoid problems (usually indicated by a P0011 error code) sidelined quite a few early cars with rough rattly starts or no running at all, even with low mileages covered. 
As with many complex modern cars, a lot of electrical problems can stem from sub-optimal batteries. These could drain quite quickly on a Ghibli. You could see near-miraculous improvements in a fritzing Ghibli simply by replacing it. If the Ghibli you buy is not going to be your daily driver a trickle charger would be a very sensible purchase.
Servicing? We'll start off by saying that you can do a surprising amount of the basic work on these cars yourself. For the bigger stuff, independents like JMH Auto offer fixed price servicing for the petrol cars running at around £570 for an annual service – inspection, oil and filter change – and just under £900 for a major service, which replaces the coolant, brake and PAS fluids, fuel filter and aux belt. Spark plugs should be changed every 37,000 miles or three years at around £300. An annual service for the diesel is the same cost as the petrol, but the major check-up is slightly more expensive at £950. Replacing the plugs on a diesel is a 'please call to discuss' item at JMH, which sounds slightly scary. More excitingly, they will do you an ECU upgrade to take the S up to 460hp, or a diesel ECU lift to 348hp, at a cost in either case of £1,440.
If you go to a Maserati dealer like H R Owen they'll offer you a three-service 36-month Premium Service package, or a Premium Service Plus one which throws in a one-time fitment of wiper blades, brake discs and pads all round. You'll pay for that, mind. The Premium Service package price is £1,994 for petrols or £2,073 for diesels. The Plus package with the brakes just about doubles those prices at £4,017 and £4,147 respectively. As for spares, Scuderia Car Parts in Egham is regularly mentioned positively in despatches.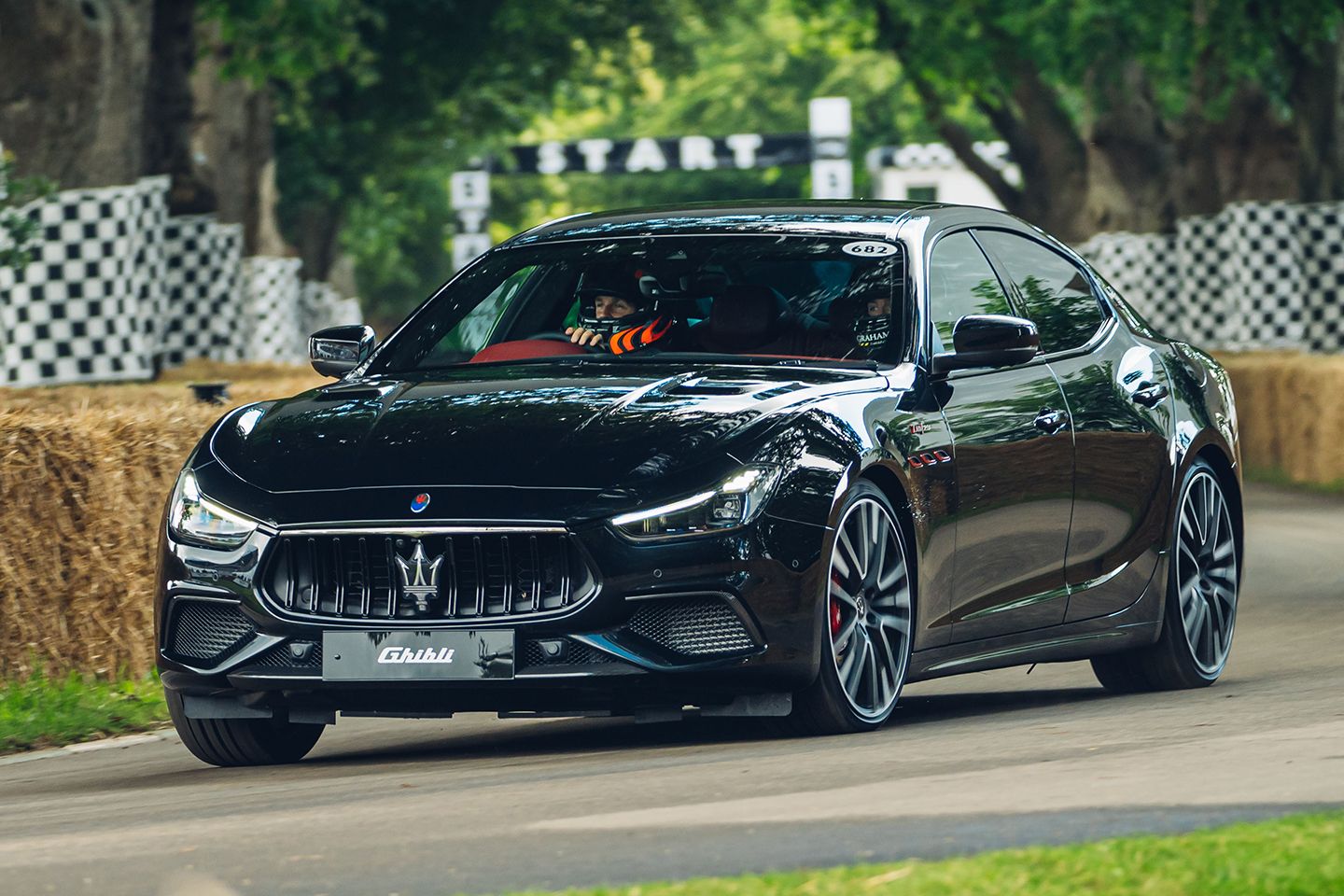 CHASSIS
All Ghiblis had mechanical limited slip diffs as standard along with classic double wishbone front, multilink rear suspension featuring quite firm settings for the passive dampers. That was fine on smooth European roads, where grip, body control and ride were all more than acceptable, but the limitations of that firmness were clearly exposed on broken British roads where the Ghibli displayed a more rugged ride and a flakier sort of grip that the steering couldn't really polish up. If you threw an extra £2,000 into your new-car budget, you could have the Skyhook adaptive dampers, but these weren't really able to work the transformation that someone who had experienced the lack of compliance of the standard setup might have liked.
2018MY cars switched from hydraulic to electronic steering, normally a move that would have enthusiasts chewing their fists but it worked OK on the Ghibli, combining a lightness with quick response. The diesel was claimed to have near 50/50 weight distribution, but independent tests suggested a more nose-heavy allocation of the 1,850kg that was being lugged around.
20-inch wheels were a popular option but don't expect the ride comfort to improve. Some trackdaying owners have gone up to 22in rims. Even in normal or gentle driving, high weight and hitman torque equals heavy tyre wear.
The front brake calipers were known to loosen which can cause a grinding noise when turning the steering. Tightening them is an easy fix. Other owners have found the grinding noise to have been caused by the steering column fluid being contaminated by metal fragments, or by the internal ball joint seizing up as a result of water ingress via a perishing sheath. Sticking brake pedals have been a thing too. OE brake pads created a lot of dust which rather spoilt the look of your alloys if you didn't keep on top of it.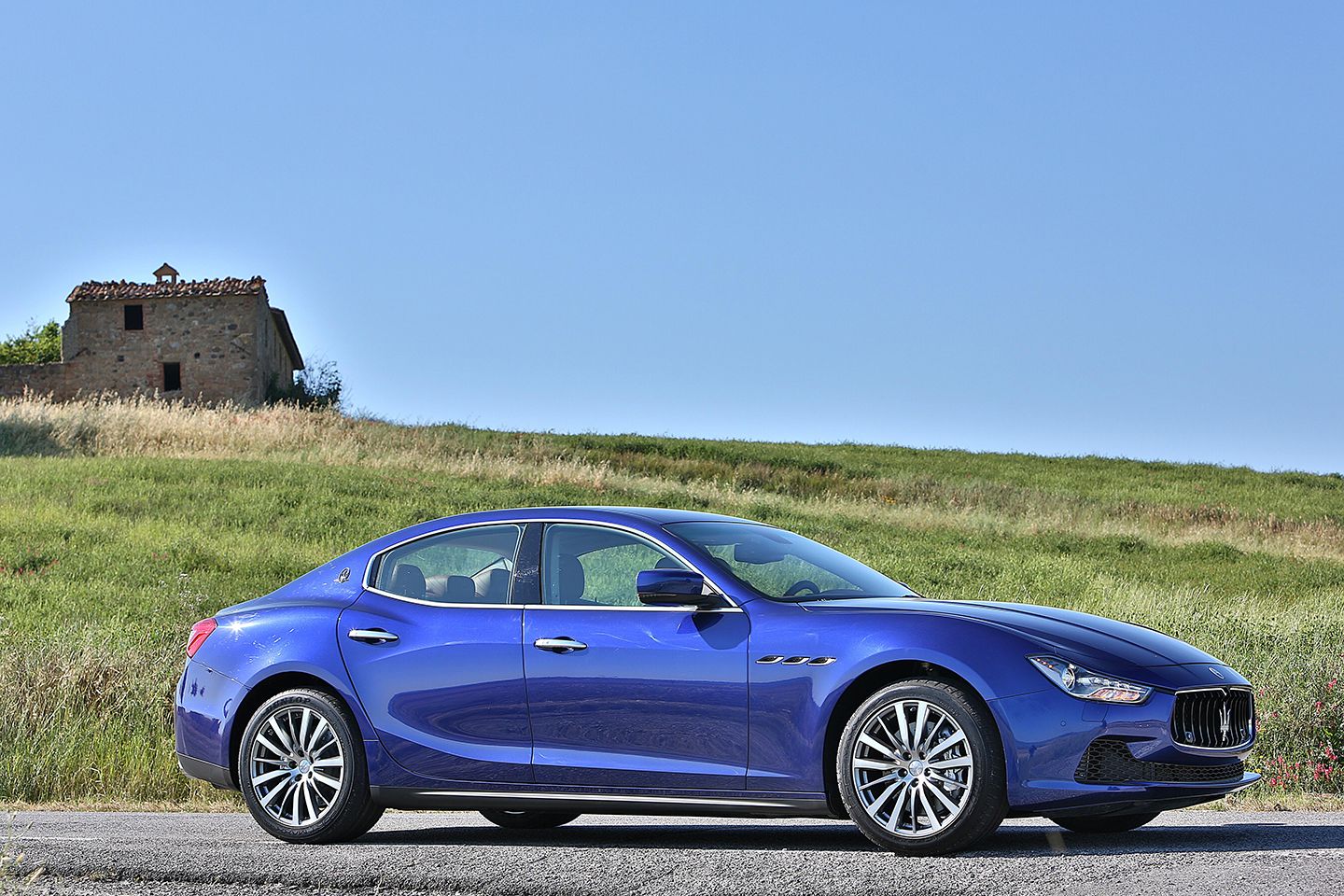 BODYWORK
From the outside the Ghibli looked like, and indeed was, a hefty vehicle, but you could forgive it a lot for the beautiful coupe-like styling that gave it a real sense of occasion.
Maserati claimed that the 2017 facelift was 70 per cent new but apart from the small hoist in S power and some additional aggression at the front end it wasn't easy to see where all the new bits were.
There have been odd reports of windows winding all the way up in the approved manner but then dropping to the halfway position. Sometimes the windows wouldn't close all the way in Sports mode (eh?). Recalibrating the door module seemed to fix it for one owner, but after closing the door the window dropped all the way down and smoke began pouring out from the door. Turned out that the winder motor had burnt out, necessitating the purchase of a new motor and rail system, which was expensive as it came as one unit.
Fuel filler caps could sometimes refuse to seal shut properly, triggering a check engine light.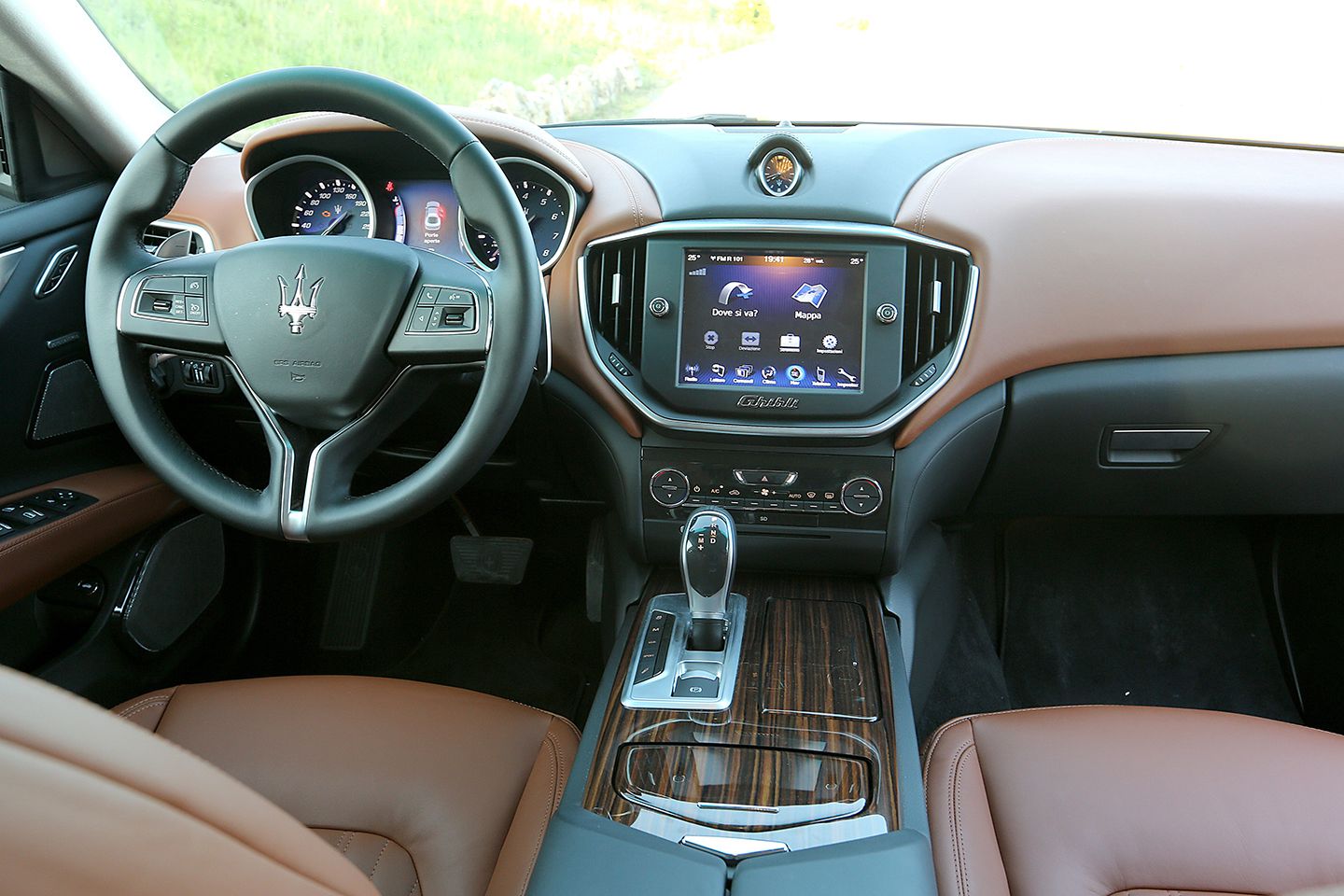 INTERIOR
For anyone into their 'style et luxe' there really was very little to complain about in the Ghibli. Build quality and materials had been brought up to a new high for the marque and the ambience was very classy. There was a bit of a disconnect between the size of the car as you walked up to it and the useable size of the cabin. Headroom was adequate but some of the legroom for rear-seat passengers seemed to have been sacrificed to create extra boot space. The instrumentation layout was good though, and so were the sumptuous looking seats.
Having said that, if you left it in a hot and sunny spot for a couple of weeks the dashtop leather had a habit of shrinking and the glue would lose its fixing ability, leaving you with a wrinkly mess. If the first buyer had laid out £2,500 for the fine-grain leather option that could turn into a very expensive fix if you left it to the dealer to sort out.
As you'd expect, the standard equipment list was long although again Maserati was perhaps a bit mean for not including some items such as a reversing camera. Parking sensors were included, but for something this size many might consider a camera to be essential. You were expected to pay extra for a surround view camera in the Driver Assistance Pack Plus, or for the Premium Pack that gave you a powered steering column and memory front seats. Lots of useful safety features were added to 2018MY cars including adaptive cruise, intelligent LED headlights, lane keep assist, steering assist and brake force assist, all contributing to the car's five-star NCAP rating.
The standard sound system was impressive with digital radio and an SD card for audio input, but it could be upgraded to a 15-speaker Bowers & Wilkins setup. Boot-mounted amplifiers were famous for dying. Some owners experienced difficulty with Apple CarPlay where every so often a phone call would mute itself, requiring the phone to be unplugged and used manually, or the Maserati Touch Control would freeze up leaving a dark screen and a crackling noise from the speakers. Dealers might blame the cable you were using even if it was the official Apple item. Software updates usually worked but sometimes didn't rectify it or show any errors. Bluetooth modules (located under the steering wheel) have been known to fail. One symptom of this was the sound stage shifting to the left. If you didn't want to shell out for a new one there were folk on the internet who would fix your broken one. Voice recognition for Siri, Waze and Google Maps generally worked well.
If the air-con fails on a Ghibli it may simply need a small top-up of the refrigerant as these systems are quite level-sensitive. Keyfob buttons could get stuck in the down position.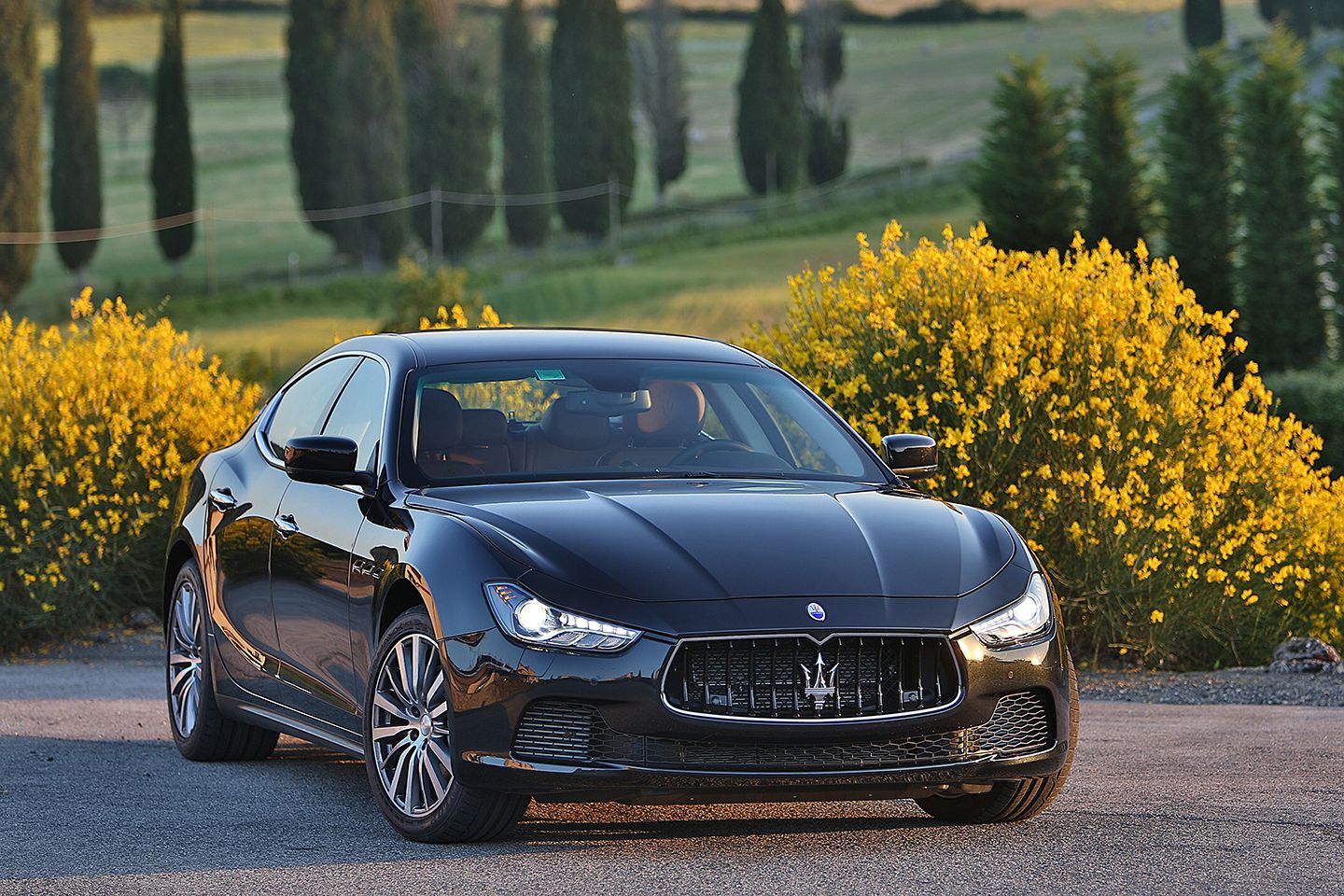 PH VERDICT
Maserati hoped that its Ghibli would prise drivers out of their E-Classes, A6s and 5 Series. It was certainly attractive in both appearance and price, especially in diesel form. Would you pick one over a 6 Series Gran Coupe or A7 Sportback, though? Well, if you wanted to plough your own furrow, then why not?
Buying one now is even more attractive given the prices they go for, which we'll get into in a minute, but sourcing a good'n outside the warranty requires a lot of care. If you buy one where the maintenance has been skimped and new belts, fluids, brakes etc are all suddenly required, that will amount to a face-whitening sum. You'll also want to see lots of paperwork confirming that all the warranty work has been done. It might seem perverse on one level, but it would be good to see that a previous owner has gone through the grief of oil starvation and that the car has safely come through on the other side because that should mean the car had a functioning lubrication system.
The upside of the Ghibli's less than perfect reliability record allied to a lurking fear of mountainous running costs is that you can pick one up for peanuts, relatively speaking. We saw a 113,000-mile diesel for under £14,500 and an S for under £18k. The lowest priced Ghibli on PH at the time of writing was this 100k-mile diesel at £15,690 PH's cheapest petrol Ghibli was actually an S, and a very low mileage one at that, with just 23,000 on the clock. 
If you can afford it, late 2018-on (i.e., 2019MY) cars are certainly the best bet from an avoiding-the-glitches perspective. It's said that warranty work on post-'18 cars was down by 50 per cent compared to what it was on the '14-'16 era cars, which in turn were improved upon by the '16-'18 cars. Here's a 2016 diesel with 26,000 miles at £19,800. Sadly, there were no examples of the Ghibli S from 2018 (the last year for them) for sale on PH as we went to press.