The redesigned 2023 Lexus RX now comes with more potent powertrains and a more efficient hybrid. The redesigned RX is a five-seat crossover SUV that straddles the premium and luxury classes, similar to the Acura MDX, Infiniti QX60, and Volvo XC60. With four powertrains, including three hybrids, and six trim levels, the mid-size SUV tries to entice a more youthful demographic without alienating its core. It stays closest to the middle, but its attractive shape, roomy interior, and excellent standard features make it a compelling value.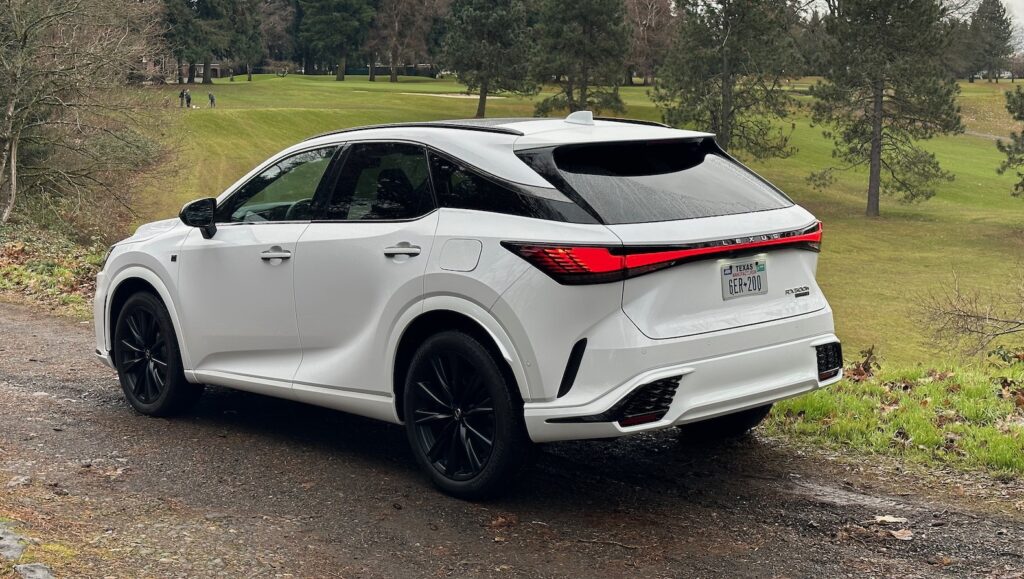 All new for 2023, Lexus updates its bestselling model with a new look, new powertrains, and a cleaner look inside. The fifth-generation SUV rides on a new global platform that's both stiffer and lighter in weight, and the RX comes with two new trims as well as a new performance hybrid and a first plug-in hybrid. There no longer will be V-6 options.
The new RX splits the difference between its ovoid origins and recent origami angles. The toned-down grille and smooth body panels make it appear less eager to stand out, and more confident in its character. The most noticeable changes happen on the front end. The nose appears longer because the windshield and A-pillar were pulled back an inch. Lexus neutered its massive trapezoidal grille with a new hood that dips down into the Lexus badge. The grille's diamond pattern stretches around the sides instead of being hemmed in by chrome, lending it a look of motion.
Vertical air intakes complement a narrower headlight design, and the sporty vibe extends in profile, where Lexus smoothed some of the creases for a swoop rising up to the rear fender like the Toyota Highlander. The floating roof remains the same, and it resolves on a rear end trimmed by 2.4 inches. Lexus applies its name to the tailgate instead of a logo, and the RX draws eyes in colors such as Copper Crest and Nori Green Pearl.  
The 2023 Lexus RX splits its personality into four powertrains, three hybrids, two suspension upgrades, one crossover SUV: it adds up to a pleasant driving experience with its relative quickness and all-around composure. The base RX 350 uses a 2.4-liter turbo-4 that makes 275 hp and 317 lb-ft of torque. After a bit of turbo lag, the 350 responds sharply and the 8-speed automatic transmission flicks through gears but lets the engine climb into the 6,000-rpm range. Passing power is plentiful. Available AWD comes with paddle shifters for more driver control and a 0-60 mph time of 7.2 seconds, compared to 7.6 seconds with FWD.
It is both stronger and smoother than the RX 350h. In the base hybrid, a 2.5-liter inline-4 pairs with a motor powered by a nickel metal hydride battery to make 246 hp and 233 lb-ft of torque, but even under half throttle, the CVT keeps the engine revving. As a result, noise fills the cabin, popping the bubble of quiet calm that's characteristic of the RX. Designed for efficiency, not performance, the RX 350h uses a more familiar and less sophisticated planetary gearset system than the range-topping RX 500h F Sport Performance.
The performance hybrid employs the same 2.4-liter turbo-4 on the RX 350 but it's supplemented by a motor generator up front and a rear motor powering the rear axle for a total system output of 366 hp and 406 lb-ft of torque. With the rear motor, the full-time AWD system can split the torque from front-wheel drive to a ratio of 40/60 at launch to hit 60 mph in 5.9 seconds. But shifting out of first gear on the 6-speed automatic can take a beat longer than expected.
Eco, Normal, Sport, and Custom modes change the throttle response, so that Eco mode feels as if you're stepping on a sponge, and the electronic steering feel, which is light by default. A Trail mode on AWD models uses brake-based vectoring to control wheel slip and distribute torque to the rear wheels. Still, the Lexus RX shouldn't be exploring far off pavement, with just 8.1 to 8.2 inches of ground clearance and soft, on-road tires.
The RX 450h+ shares a 18.1-kwh battery and plug-in hybrid powertrain with the smaller NX450h+ and the Toyota RAV4 Prime. It has a 2.5-liter inline-4 and two-motor system powering the front wheels, and a dedicated motor at the rear axle for AWD. Brief driving impressions were that EV mode was not as quick off the line as other PHEVs, but there's a seamless shift between gas and electric power. It's very quiet. It will be available in the U.S. at a later date.
All hybrid models come standard with AWD, but with different systems. The RX 350 comes with front-wheel drive, but all-wheel drive is available. The RX 350 F Sport Handling comes with standard AWD on demand, as well as adaptive dampers on its fully independent suspension with front struts and a multi-link rear. The F Sport grades dip into curves with a smooth weight transfer, and the body movements remain predictable for more spirited handling than in models without the adaptive dampers. Even with the 198-lb weight reduction, it's hard for the RX to overcome its tall ride height. That may limit its sportiness but it remains a composed highway cruiser.
The RX 500h uses the brand's latest AWD system that continuously factors in wheel speed, acceleration, and steering angle to apportion torque to the front and rear axles. Unlike the brake-based torque vectoring on the 350h, the Direct4 AWD system splits the available power to 70/30 front/rear at the start of a turn but then to 20/80 coming out of a turn. It can't fully shed its 4,751-lb weight or its height, but it's much sportier than any RX before it and the rear axle steering of four degrees noticeably helps the RX500h cut into curves. That makes it a compelling alternative to the Acura MDX Type S and it's sportier than any crossover SUV from Infiniti, Lincoln, or Cadillac.
With three different hybrid options, the Lexus RX goes the extra mile. Lexus targets a 22 mpg city, 29 highway, 25 combined rating for the RX 350 with front-wheel drive. AWD costs 1 mpg. We don't have any specs on the RX 450h+ plug-in hybrid, so for now the most efficient model is the RX 350h with a 37 mpg city/34 mpg highway /36 mpg combined target, which is an impressive city rating. The outgoing hybrid topped out at 30 mpg combined. The performance-leaning hybrid AWD system in the 500h gets 27 mpg city and combined, with 28 mpg highway.
The 2023 Lexus RX comes with better standard driver-assist tech than most luxury rivals. The NHTSA and the IIHS haven't mangled its metal in the name of safety, but the 2023 Lexus RX comes with standard driver-assist features designed to mitigate or avoid crashes. Every model comes with automatic emergency braking with pedestrian and cyclist detection, active lane control, blind-spot monitors, automatic high beams, and adaptive cruise control. Many luxury automakers charge extra for some of those features. Options available on all grades include a limited hands-free driving system at speeds of less than 25 mph on mapped interstates and an automatic lane change function when the driver selects the turn indicator. A surround-view camera system is also available.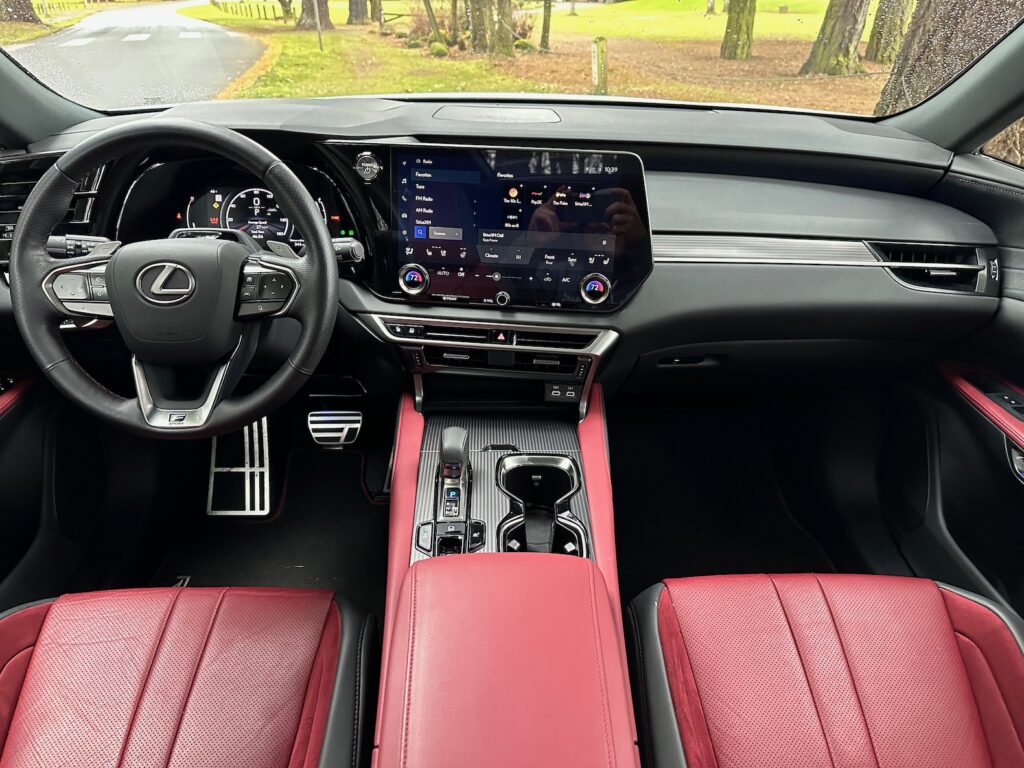 The interior centers around a curved wall of screens, ranging in size from a 7.0-inch instrument cluster with 9.8-inch touchscreen to a 14.0-inch touchscreen flanked by climate dials. The dash arches behind that screen in an odd way, fitting gloves or press materials perfectly, but at least it's better than the predecessor's screen that jutted out of the dash like a gravestone. Fewer dash layers and a cleaner console with an electronic gear shifter lend it some chill. There's no trackpad, and no analog clock. Neither are missed. There's more metallic trim pieces and attention to detail, including pushbutton door handles that take a minute to get used to but add a degree of simple elegance.
Still comfy but not as quiet, the 2023 Lexus RX treats riders to lavish materials. This new generation of the Lexus RX seats five passengers, with the RX L seven-seat option no longer offered. Even though Lexus shortened the ends, extended the wheelbase, and made it an inch wider, it's best suited for four adults. Heated front seats with 8-way power adjustments and covered in synthetic leather earn it a point, as do the roomy rear seats and expanded cargo room. The fit and finish also scores a point, especially on higher grades with ash or bamboo wood trim and suede and leather upholstery. It's a 9.
The front seats are all-day comfortable, and high trims ensconce driver and passenger in more luxury with power lumbar support, semi-aniline leather, and memory positions for the seats, mirrors, and steering wheel. A compact electronic gear shifter opens up more space in the console for expandable cupholders, and a storage tray holds at least two phones, with one on an available wireless charger. Climate controls fall within the larger touchscreen, but temperature dials keep it easy.
The touch-sensitive steering wheel controls are quite intuitive. Roll a thumb over either of the four-way arrows and, depending on the model, the faceless icons appear in the digital instrument cluster or on the head-up display. It lets Lexus add features over time, we presume, but it takes time to memorize what is where. It's not complicated but takes a little getting used to and luckily highly customizable.
All but the base model gets cooled front seats as well, and heated and cooled rear seats are an option, as are power folding rear seats. Two adults have plenty of room in the rear seats, and three kids in the back would have no reason to complain. The top plug-in hybrid model takes a page from Genesis with power buttons on the inside of the front passenger seat so anyone front or back can move the seat with the push of a button. The RX450h+ also has bamboo wood trim on the dash and console.
With the 60/40-split rear seats folded down, the cargo room expands to 38.5 cubic feet, which is nearly six cubes more than its predecessor. Hybrids don't sacrifice any overall cargo space from the 350 gas model, except for a slightly smaller gas tank. The hybrid battery pack sits under the rear seat, but those seats can still recline. A real spare tire and jack sit under the floor.
More standard features and better upscale options burnish the 2023 Lexus RX. Lexus equips its redesigned bestseller with a 9.8-inch touchscreen with wireless smartphone connectivity, a wi-fi hotspot, a 12-speaker sound system, six USB ports, a power sunroof, and 19-inch alloy wheels. That's good boodle but it's just the beginning. The standard features, long options list, and good infotainment system fronted by a 14.0-inch touchscreen on all Premium+ and above models give the new RX impressive value. Lexus includes a 4-year/50,000-mile basic warranty on all RXs.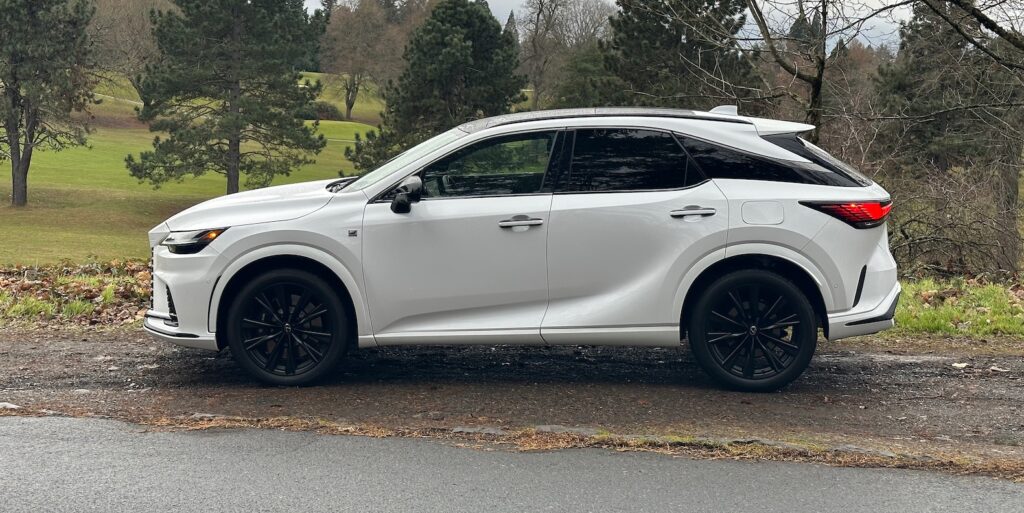 Sold in six wide-ranging trims and four powertrains, it's really going to come down to how you like your luxury and the optimal powertrain for your needs. The base engine in the 350 for $48,550 outperforms the $50,150 350h, but the 350h is much more efficient. For most models the Premium+ grade for roughly $5,000 adds a leather interior, the solid 14.0-inch touchscreen with good audio commands, and the classic Lexus heated wood steering wheel. All-wheel drive is a $1,500 premium on the standard 350 but it standard on the 350h and 500h hybrids.
For the performance curious, the highly capable 500h starts at $62,750. Until pricing and other details are announced on the plug-in hybrid, the RX500h tops the line in performance and price. It comes in only one loaded trim, the F Sport Performance with AWD, and upgrades include 21-inch gray alloy wheels, lush leather and suede trimmed seats, and all the performance upgrades with that engine as well as the cosmetic black trim bits from the F Sport Handling. That also means bolstered bucket seats, a dynamic digital instrument cluster, and a head-up display.
Reviewing the 2023 Lexus RX is effortless, just like the crossover itself. Lexus' decades of refinement culminate in the best RX ever, there is literally something for everyone. From impressive efficient powertrains, refined driving dynamics, cutting-edge technology with impressive value; Lexus has clearly done their homework. While some would argue that the previous RX was bland enough that anything would be improvement, we're glad the all-new 2023 Lexus RX has arrived and is at the top of its game.