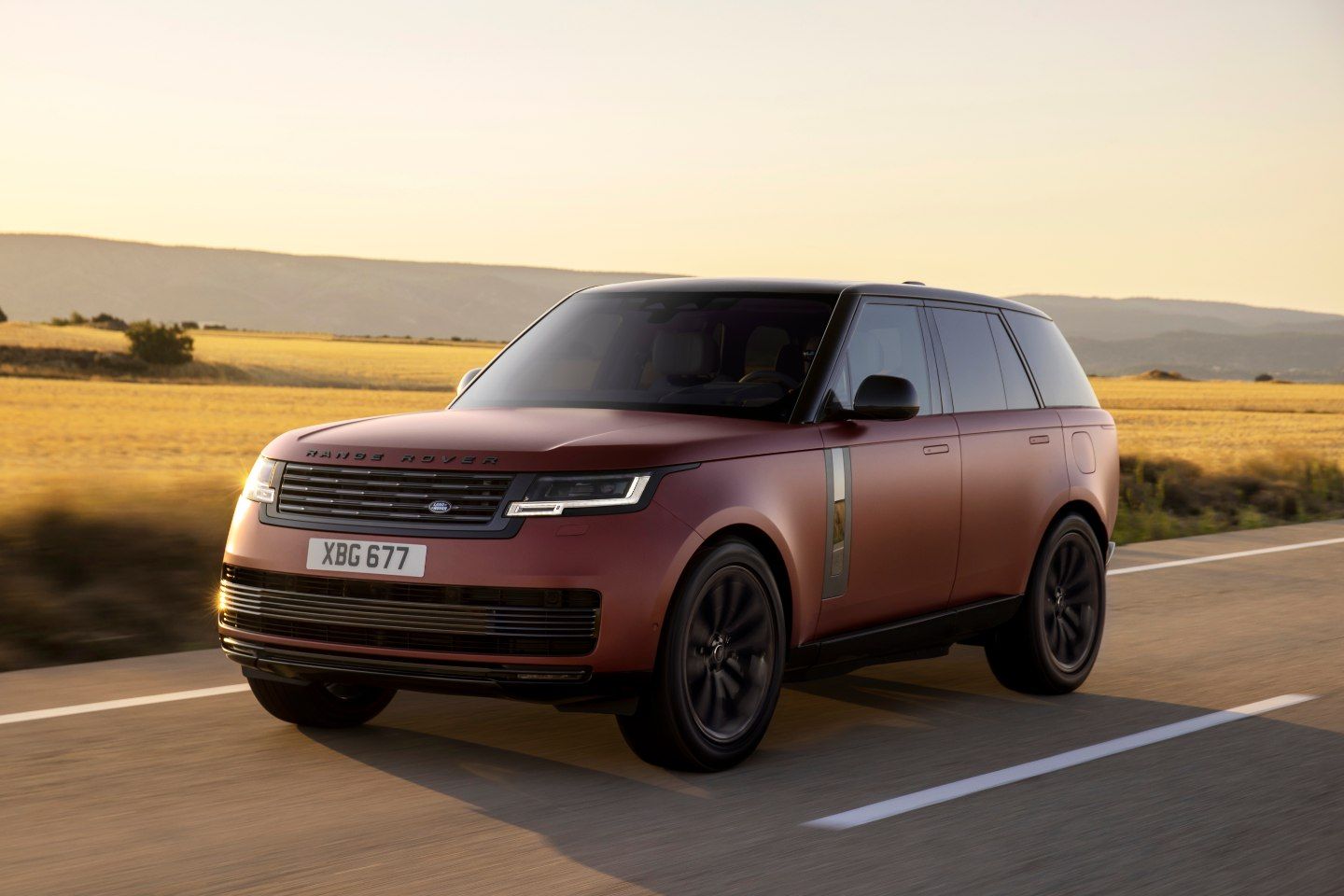 Who's desperate for a zero-emissions Range Rover? You are? Good news, then, because your wait is over. Well, sort of. The proper battery-electric (BEV) version of the fifth-generation Range Rover – the L460 – isn't with us until 2024, but you can buy a Range Rover now that's capable of useful zero-emissions running. All you have to do is opt for one of the two plug-in hybrids (PHEV) that are available on the configurator. The P440e starts at £108k, while the P510e – the beefier one that we've tried – is available from £131k.
We say 'useful zero-emissions running' because that's what you get. This is not one of those plug-in hybrids that you sense was just a box-ticking exercise marked 'Oh Christ, we forgot the battery one'. It's been developed properly. That's because it was an integral part of the L460 project from the start. In fact, a big reason the L460 has ended up being so different underneath to the L405 that preceded was because of the PHEV and BEV considerations.
When Land Rover was evaluating the L460, its engineers did consider continuing with the old D7u platform – the one that still underpins a huge amount of its current product, including the latest Defender. In the end, the need to develop the MLA-Flex chassis became overwhelming. Some of this was down to the requirements of evermore advanced safety assist systems. Some of it was due to improving rigidity and noise levels. But a massive chunk of the decision was based on future electrification.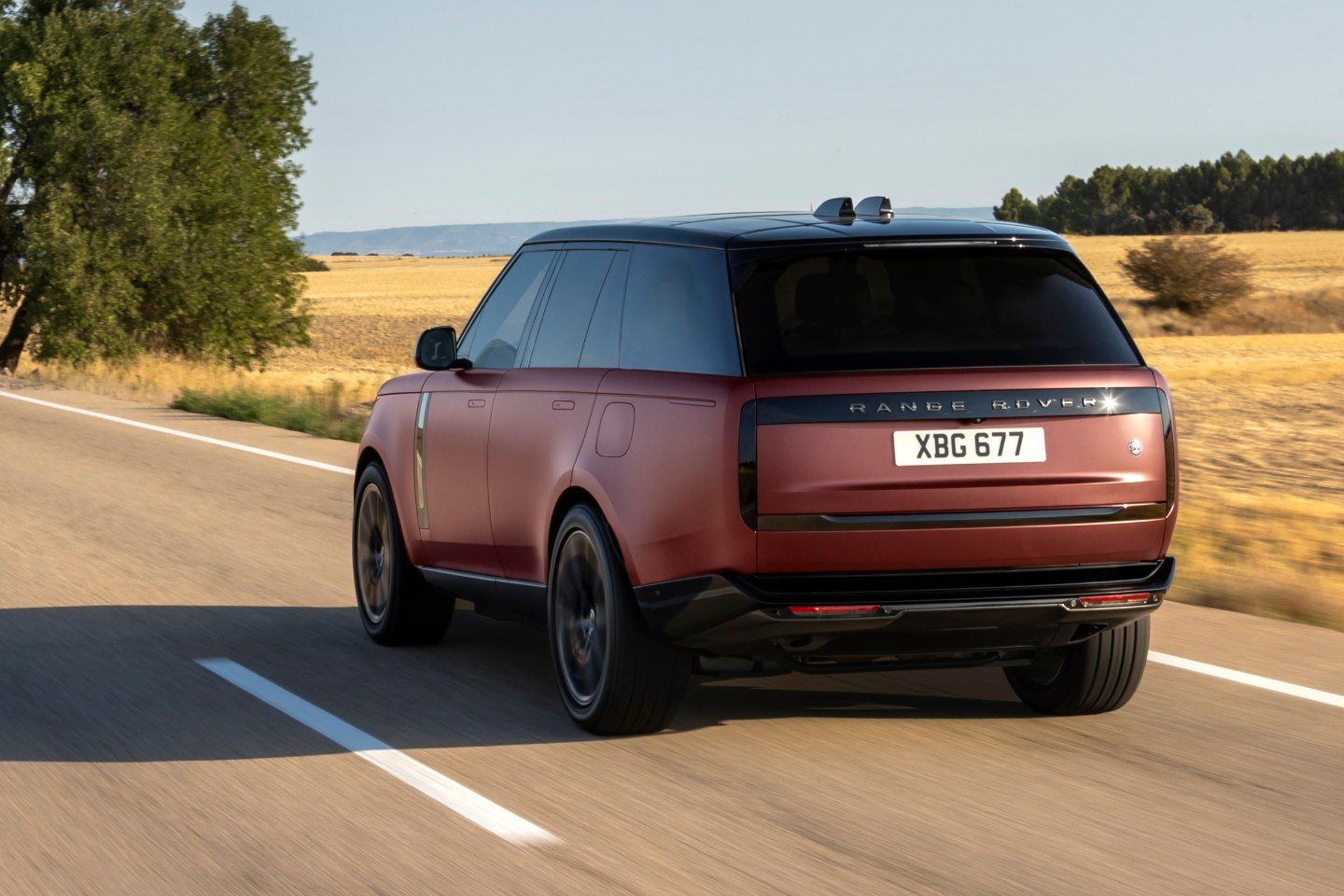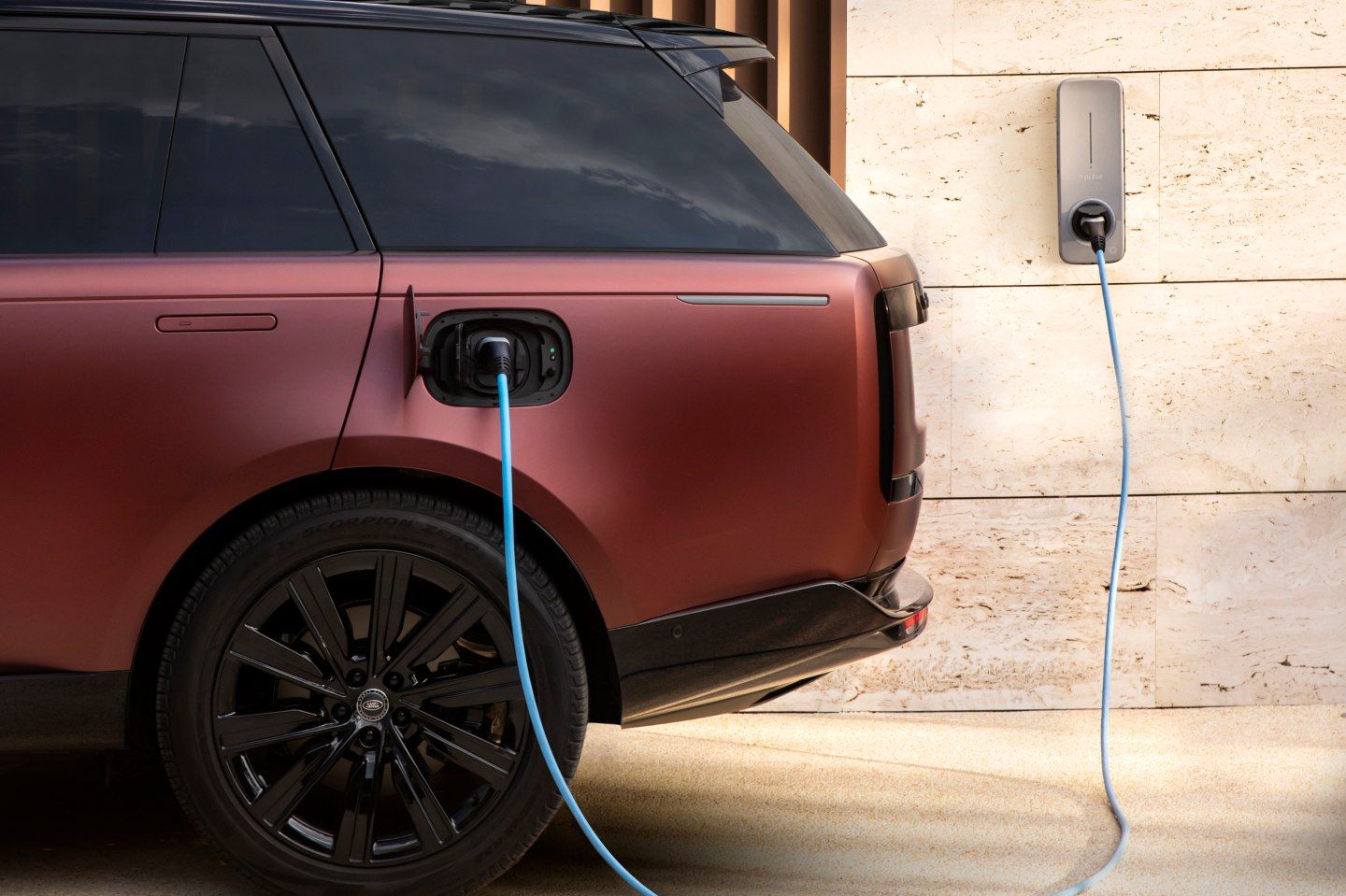 The L405 had a plug-in version, of course, but with limited options for siting of the battery pack it had a range of just 31 miles. That was never going to cut it against the next generation of PHEVs. The L460 was configured for the battery to sit under the floor, so it doesn't ruin the boot space and it's a comparative whopper: 38.2kWh, of which 31.8kWh is usable. To put that into perspective, the original Nissan Leaf's battery was 24kWh, which that gave it an official range of 105 miles. That was an NEDC figure, though, and in reality, you'd have been lucky to get more than 70 miles out of it, even if every star in the galaxy were aligned. So the fact that the Range Rover PHEV's official range is 70 miles, using the far more accurate WLTP measuring system, is highly creditable. This is a 2.7-tonne beast of a car, after all.
Even WLTP figures are hard to achieve, mind, but in the real world you can expect to cover 50 miles using electricity alone. And that brings us back to the 'useful' bit. That's a useful range. Think about how many journeys you do that would fall within that? Range Rover's own data, drawn from the usage of its cars, shows that 75 per cent of Range Rover owners' journeys are 50 miles or under. So if you keep your Range Rover PHEV charged up at home it'll use next to no petrol and be quite cheap to run – assuming you've managed to wangle a good leccy deal.
If you have a wall box fitted, which I am guessing most people who buy one of these will, then a full charge from empty will take five hours. If you're charging on the move, then the Range Rover PHEV can charge at up to 50kW DC from a public charger, which is faster than the vast majority of PHEVs. That makes a 0-80 per cent charge possible in 40 minutes, and the electric motor has the capability to deliver up to 142hp and 203lb ft, which is easily enough to get you to motorway speeds.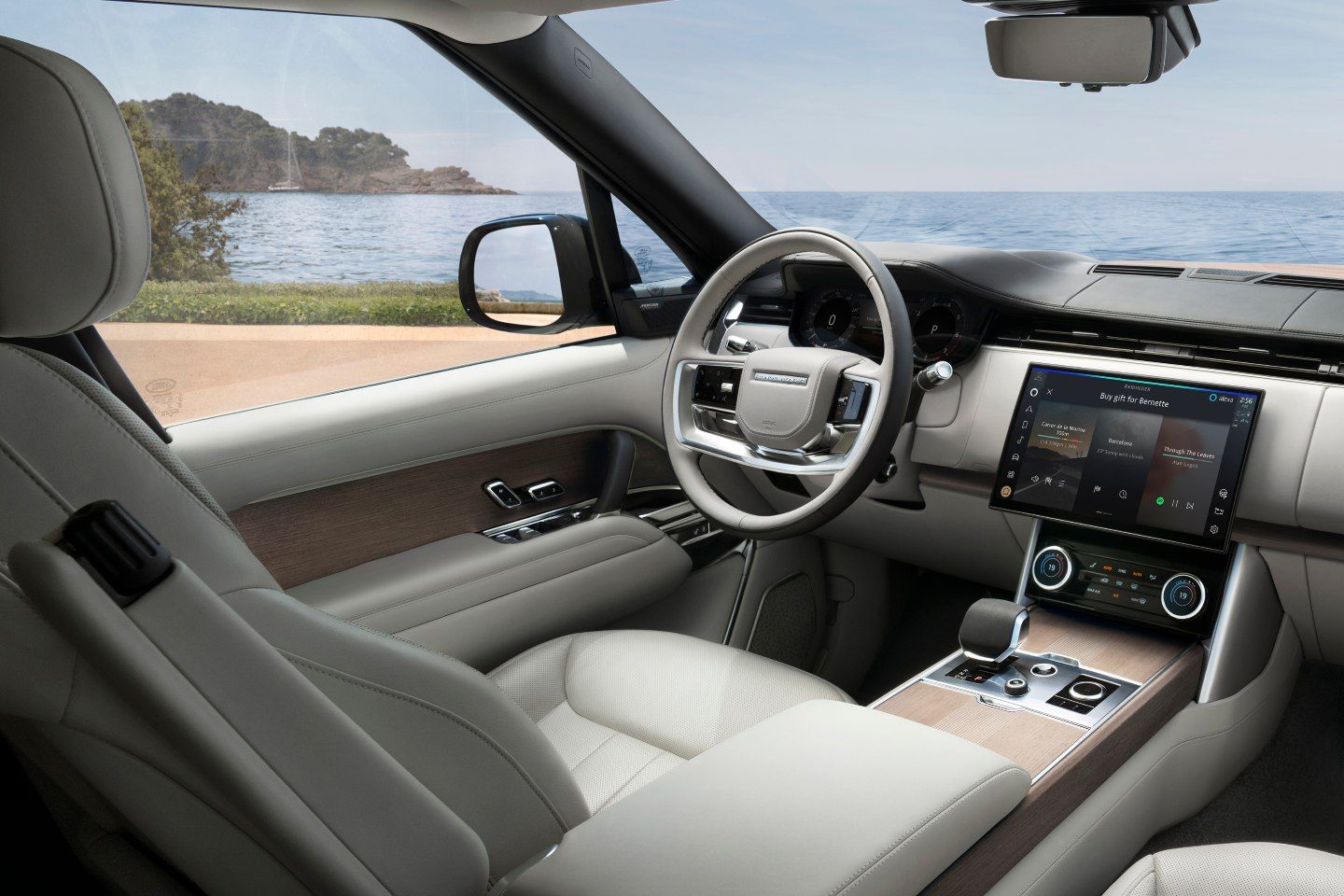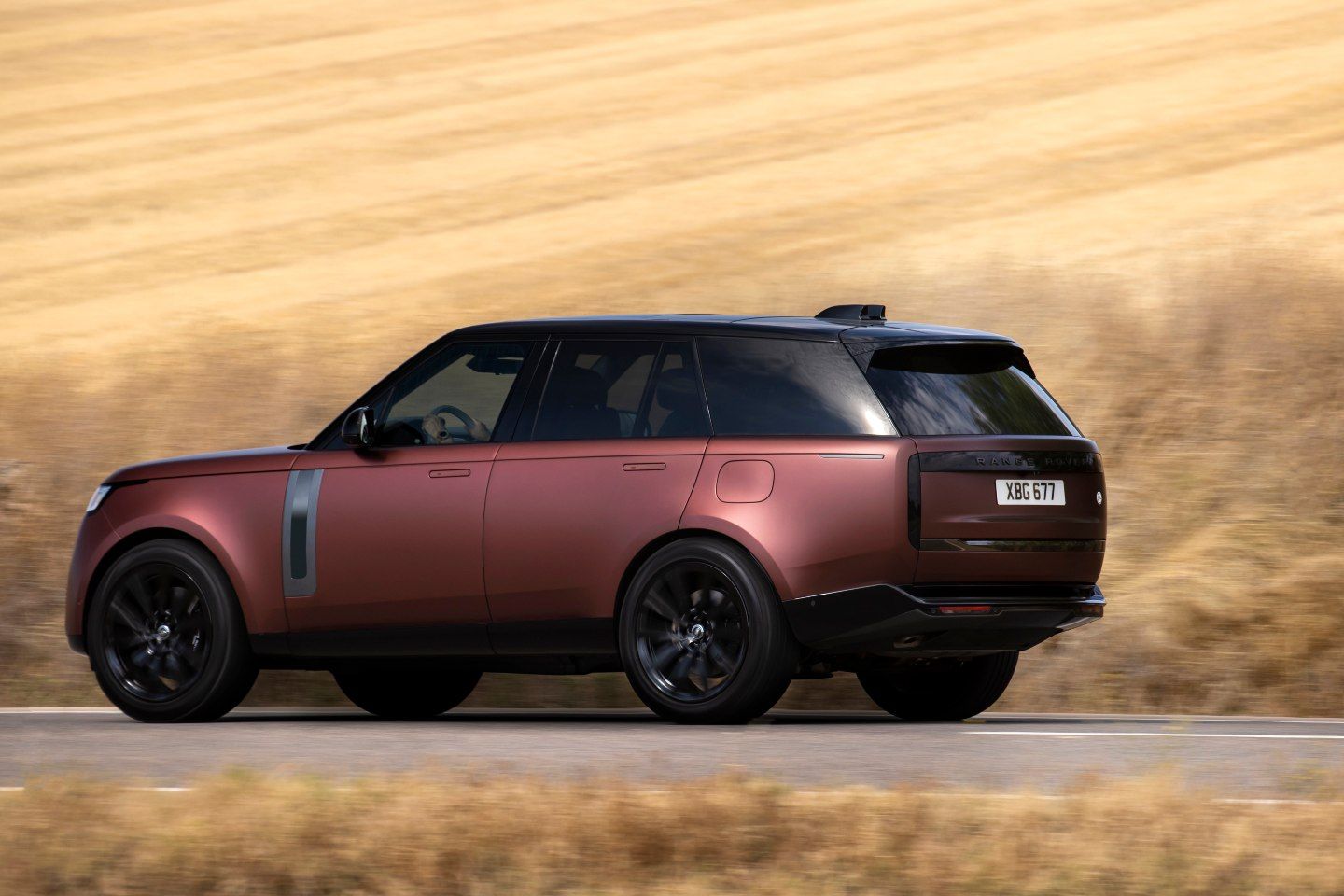 All the above figures are the same whichever Range Rover PHEV you choose, but that's where the similarities end. As always with JLR products, the number in the engine's name tells you the total power output, so the P440e is obviously 440hp and the P510e is…well, I'll let you work that out. It makes the P510e the second-quickest model in the range, hitting 62mph from rest in 5.5 seconds – half a second quicker than the P440e and a second slower than the range-topping P530 V8. Yes, the V8 feels quicker, ultimately, but if you gun the P510e I promise you it romps off down the road handsomely. Honestly, though, that's not how you default to driving the P510e unless you're a bit of a philistine. There's such a huge stack of torque at low- to mid- revs that you find yourself nestling happily in that region, basking in the effortless progress it brings. If a Range Rover is all about luxury, and, in part, luxury is about painless performance, then the P510e is most definitely luxurious.
It's luxurious in other ways, too. Take noise. Whatever you do with the accelerator you hear either none, some, or some more. But never too much from the powertrain. Obviously, mooching about in electric mode is when there's none. With the engine running, but used sparingly, all you hear is the muted tones of a smooth six-cylinder. That's rather pleasant, and so it continues to be when you extract every last drop of performance out of the car; the noise intensifies but never makes you tense.
As we've mentioned in every L460 review so far, road noise is fantastic because of its absence. The exclusion of NVH through this MLA-Flex chassis is good, but the cherry on top is the active noise cancelling that removes all but the last squeaks of tyre noise making its way through to the interior. It works like this: there are six microphones dotted around the Range Rover's wheelarches. These pick up any rumble from the tyres' interaction with the road and that's fed it into a processor that creates 'anti-noise' – noise that's equal but opposite, in effect. Then that's played through speakers in the headrests and the upshot is a quiet cabin in most respects. What it doesn't do is cancel out wind noise, and there is some of that at 70mph. It's the one area I'd implore Range Rover to work on. It's done such a good job everywhere else that what squalling you hear from around the door mirrors cancels out some of that. Not all of it, mind, just some of it.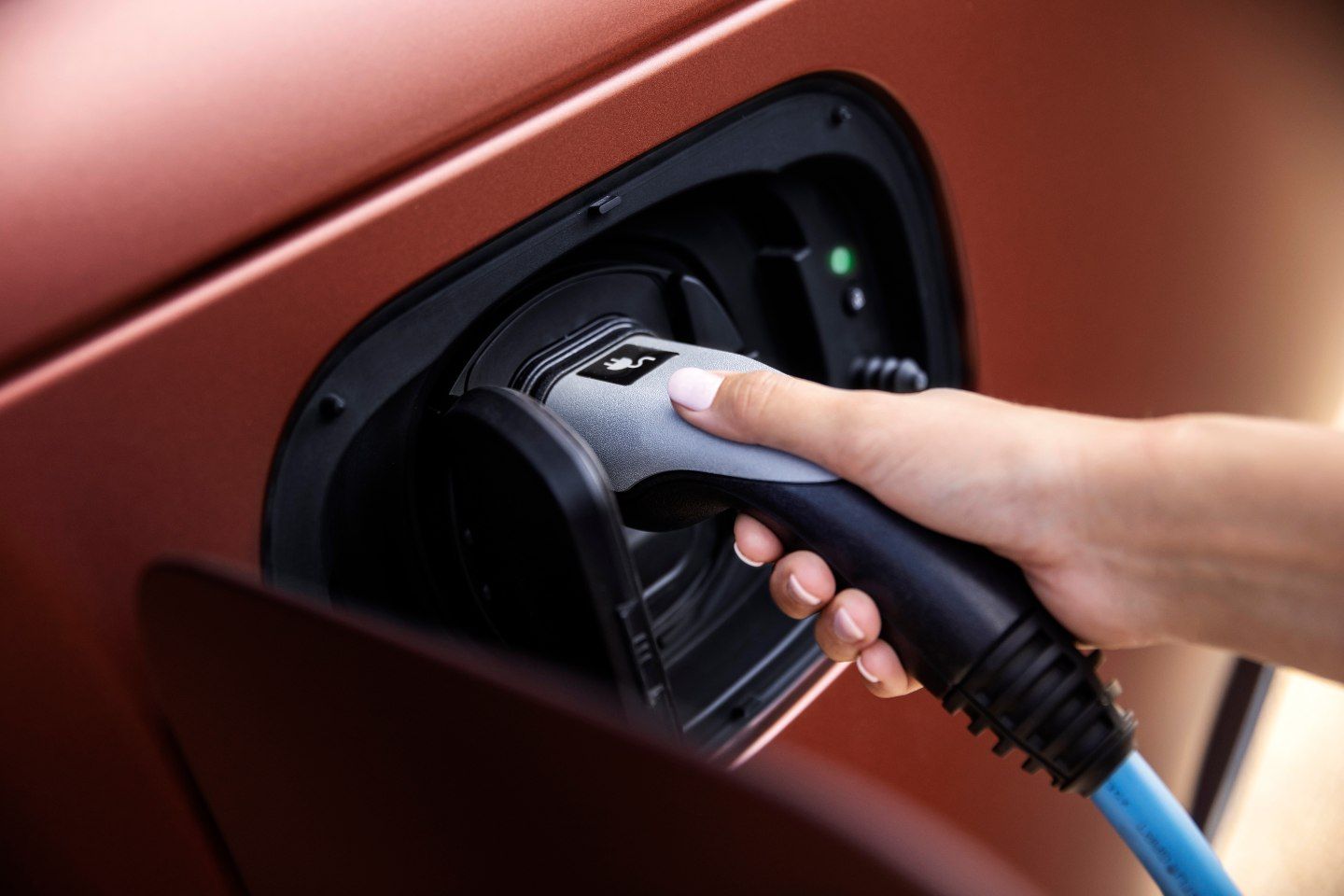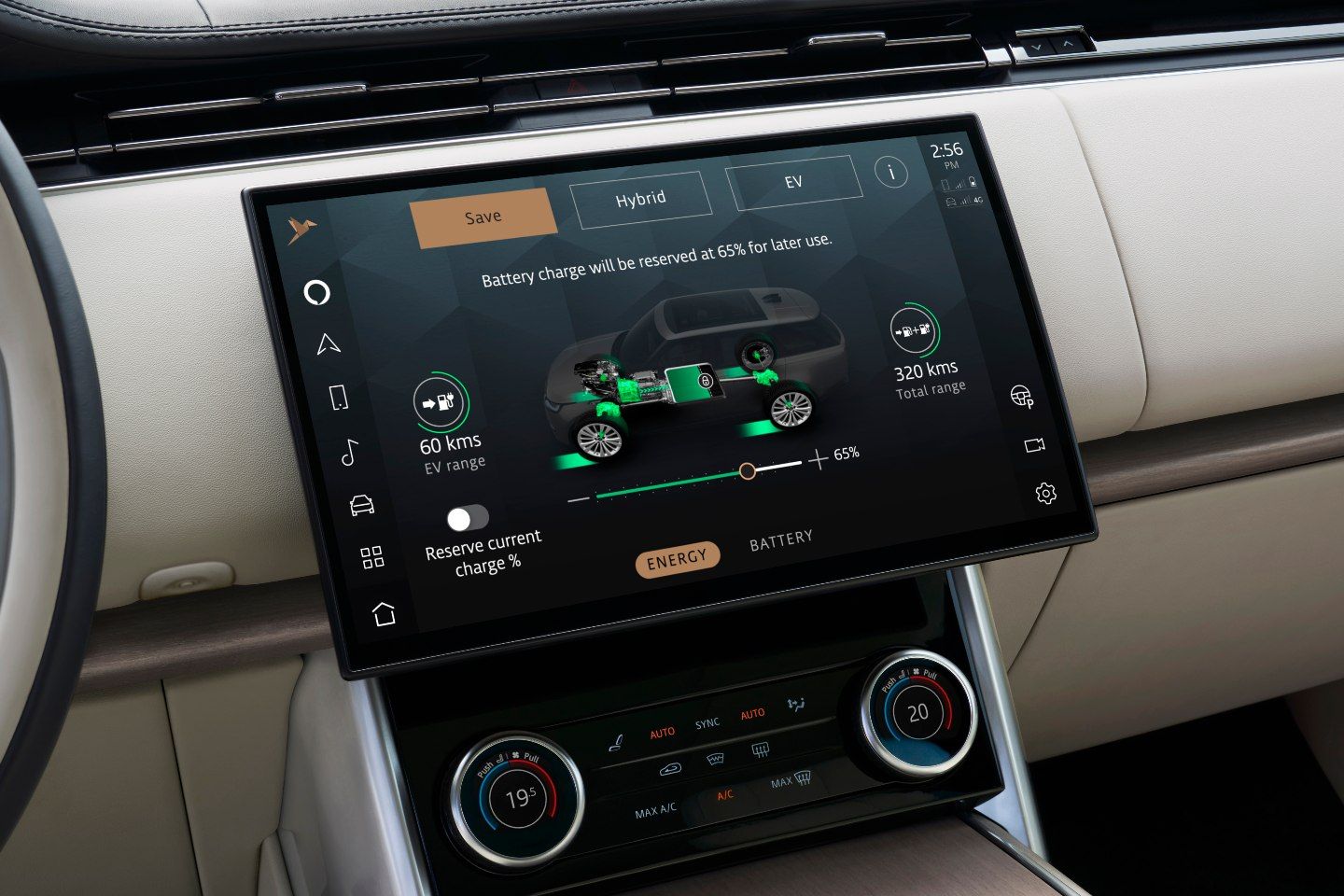 Right, back to the positives. The ride. By crikey, the ride was sublime touring around the Spanish countryside. Body float is a funny thing. Most of the time it's unwanted, but in a car like the Range Rover, I'd suggest it makes the experience. There's just enough here to make this feel genuinely like a large, wheeled pillow. Not too much, though; it's not sickness-inducing. The way it rises and falls graciously with the ebb and flow of the road is a pleasure to behold. It is the epitome of luxury – to a point. Again, there is some weakness – something to stick on the engineers' to-do list. Any pointy imperfections send a slight judder through the interior. At first, I thought this was chassis flex, but I am reliably informed that the chassis is really stiff. The sensation is caused by some excessive wheel movement after the bump, which will be cured by tweaking the damping rates.
Another thing that's very impressive is the braking. There is next to no discernible corruption from the regenerative side. Just as it is in the ICE versions, the pedal is soft, yet progressive and very powerful. I also enjoyed the P510e's handling. This is a huge car – it feels colossal on the road – and as I've said, it's also set up to be pliant and comfortable. It's tall, too, and none of those things looks good on a recipe for handling precision. And my god the Range Rover is as far from a sports SUV as a fat hippo, but if you recognise its limits – in terms of grip and lean – you can guide it along tortuously snaking mountainous roads very easily indeed, and at a reasonable pace. A lot of that's down to the steering, which is light but weights up just enough to key you into the experience. You don't think about the process of placing it on the road. The standard rear-wheel steering isn't noticeable at speed, either – only at slow speeds, when you marvel at this five-metre car's manoeuvrability. The 48-volt anti-roll system adds something to the handling, too, but it feels more effective at stabilising the tall body over bumps – and therefore aiding comfort – than removing the excessive lean.
It's hard to fault the fit of the interior, which feels quite solid where ever you poke and prod it. In general, the materials are good as well. It's not quite up there with a Bentley, but it is cheaper than the equivalent Bentayga (by some margin). Yet, even with that in mind, some of the chromed plastics don't look or feel appropriate in a £130,000 car. The interior is appropriately spacious, though, whether you're in the front or the rear seats, and full of the sort of gadgets you'd expect at this level, such as massaging and cooled 24-way front seats, electric rear seats, Alexa voice assistant, cabin air purification and ClearSight rear-view mirror to name but a few. The Pivi Pro infotainment system is also on the money, once you've mapped out its many menus in your mind's eye. The crystal-clear, 13.1-inch curved screen and responsive software are two of its obvious highlights, and it's also high on feature count.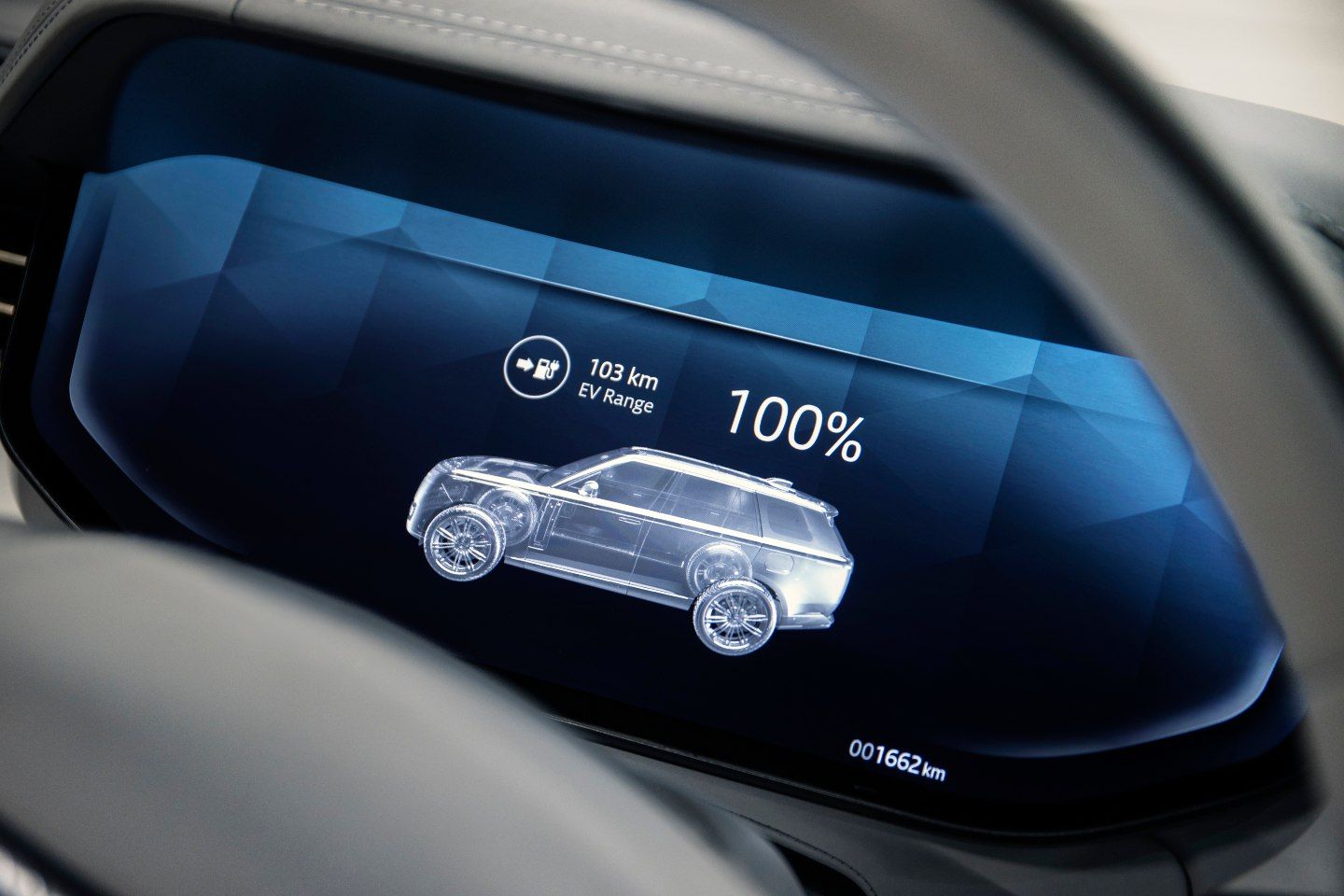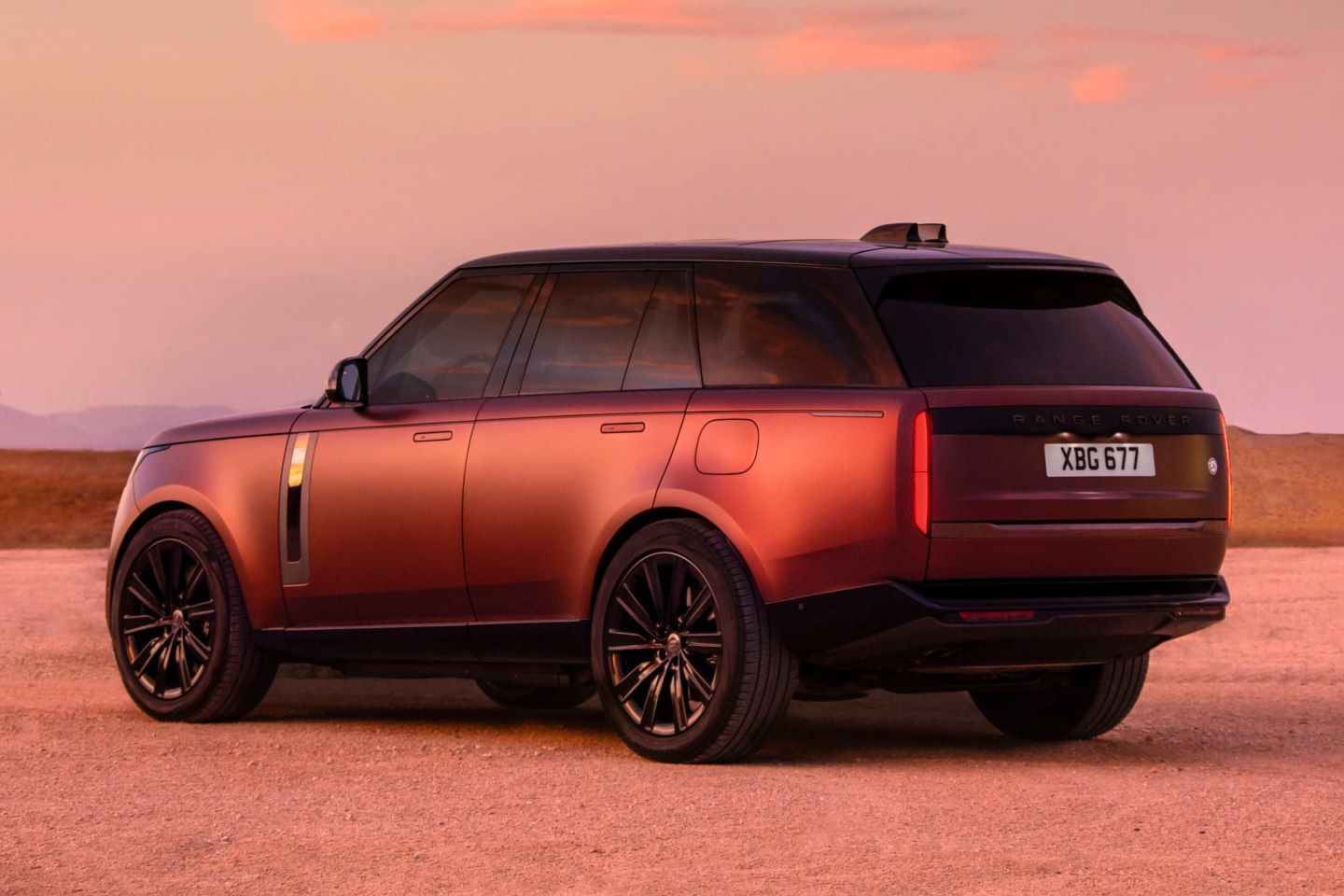 Negatives? Well, aside from what I've mentioned already – the occasional bout of brittleness to the ride and the wind noise that seems to affect all L460s – the P510e, specifically, cannot tow as much as the rest of the range. It's limited to 2.5 tonnes, which is one tonne less than the non-PHEV cars. And it's not quite as capable off-road, because the battery packs lurking at floor-pan level limit, very slightly, things like ground clearance (down by 11mm) and ramp angle (2.5-degrees less).
How many buyers will be concerned with that? Not the majority, I would think. If you are, then pick another engine from the range – my suggestion would be the absolutely brilliant D350 diesel. If you're not bothered about off-roading or towing then, the PHEV is a perfect fit for the Range Rover in terms of how it delivers its performance. It adds some things to the Range Rover experience, too: not only the usefulness that zero-emissions running can bring in a modern world, where you're incentivised to run cars like this, but in respect of the augmented peace and quiet, which suits this car very well. Overall, it's a very accomplished car, and even those who aren't desperate to buy into zero-emissions running would do well to consider it. 
Specification | 2022 Range Rover P510e Autobiography 
Engine: 2,996cc, straight-six, twin-turbocharged, plug-in hybrid
Transmission: 8-speed automatic, four-wheel drive
Power (hp): 510 @ 5,500-6,500rpm
Torque (lb ft): 516 @ 1,500-5,000rpm
0-62mph: 5.5 seconds
Top speed: 150mph
Weight: 2,735kg (DIN)
MPG: 353.1 (WLTP)
CO2: 18g/km (WLTP)
Price: £131,355