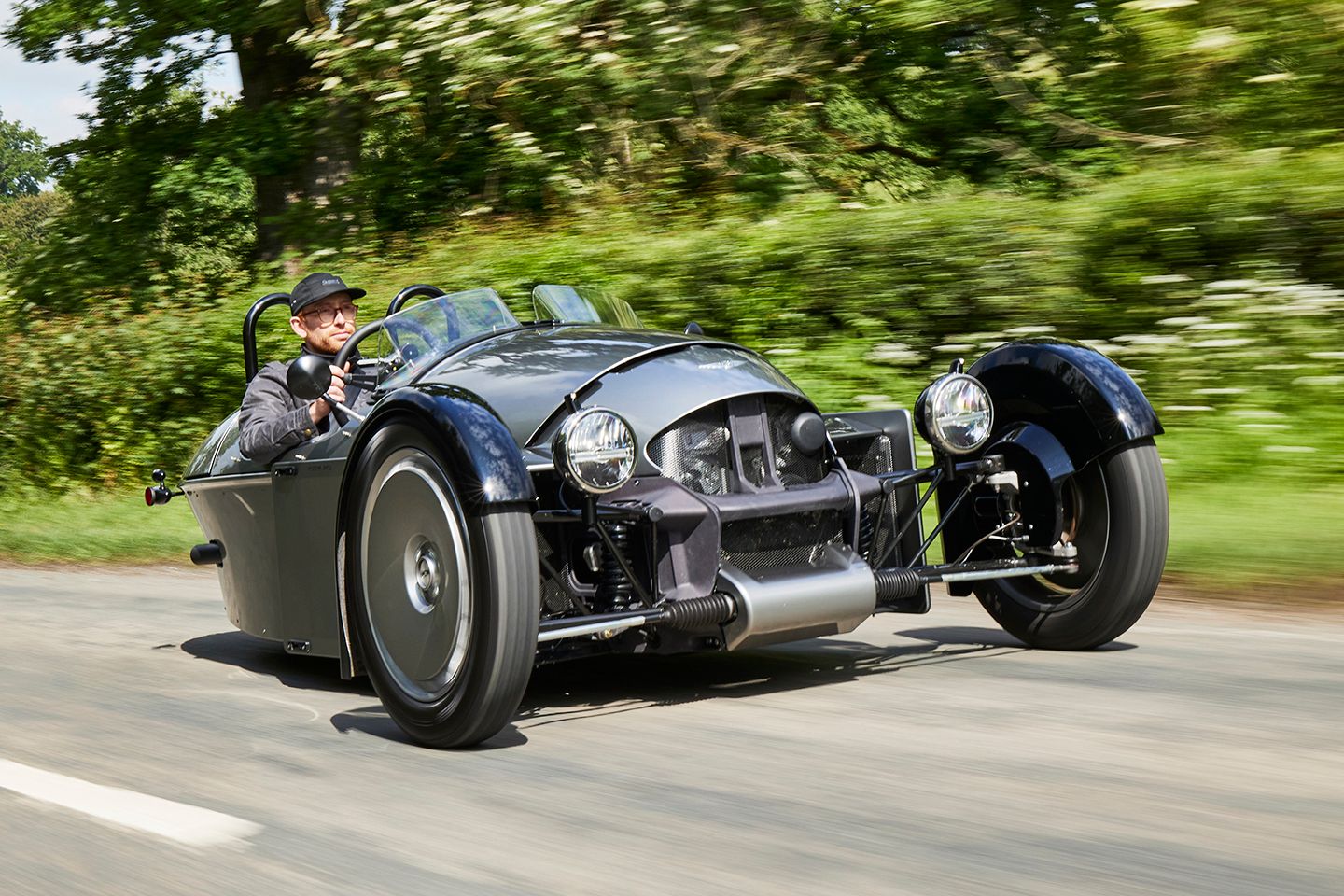 Replacing the Morgan 3-Wheeler was never going to be an easy task. Even its most ardent fans would concede there were some flaws, though seldom have such idiosyncrasies (being polite) contributed so much to a car's appeal. The 3-Wheeler was loved exactly because it wasn't perfect, not despite the fact. Make this new Super 3 too good, for want of a better phrase, and there's a danger that some will see it as lacking character and personality – the very building blocks of the 3-Wheeler's relative charm. However, fail to improve significantly enough on what went before and the problem is even worse: those with a 3-Wheeler won't want to upgrade from the original (this century's original, at least), with any other customer likely regarding it (still) as too esoteric and out there for a weekend plaything.  
It's a pickle, no doubt. But you're probably already aware that Morgan has thrown everything at this new Super 3, from a monocoque chassis to a Ford-supplied three-cylinder motor, encompassing the firm's first ever optional sat-nav and the most exhaustive development schedule for any Morgan ever. We'll spare you those details again, because we've been waiting a while for this drive – you can revisit them here – for a fair idea of what a Morgan Super 3 is like in the sunshine, read on. 
If not as wantonly weird as the 3-Wheeler, this is a spectacular car to look at. It's impossible to avoid walking around the teardrop shape and not take every bit of the Super 3 in, each new detail seemingly more intriguing than the last. Highlights include the 20-inch wheels (that look a bit like giant Ronal Turbos), the side pods and those delicate rear LEDs, but there must be plenty more depending on who you are and where you're looking. It's arresting and exciting even in the modest specification tested – imagine it in a more daring colour combination. Rest assured any fears about the Super 3 not having the impact of the 3 Wheeler will be very swiftly allayed.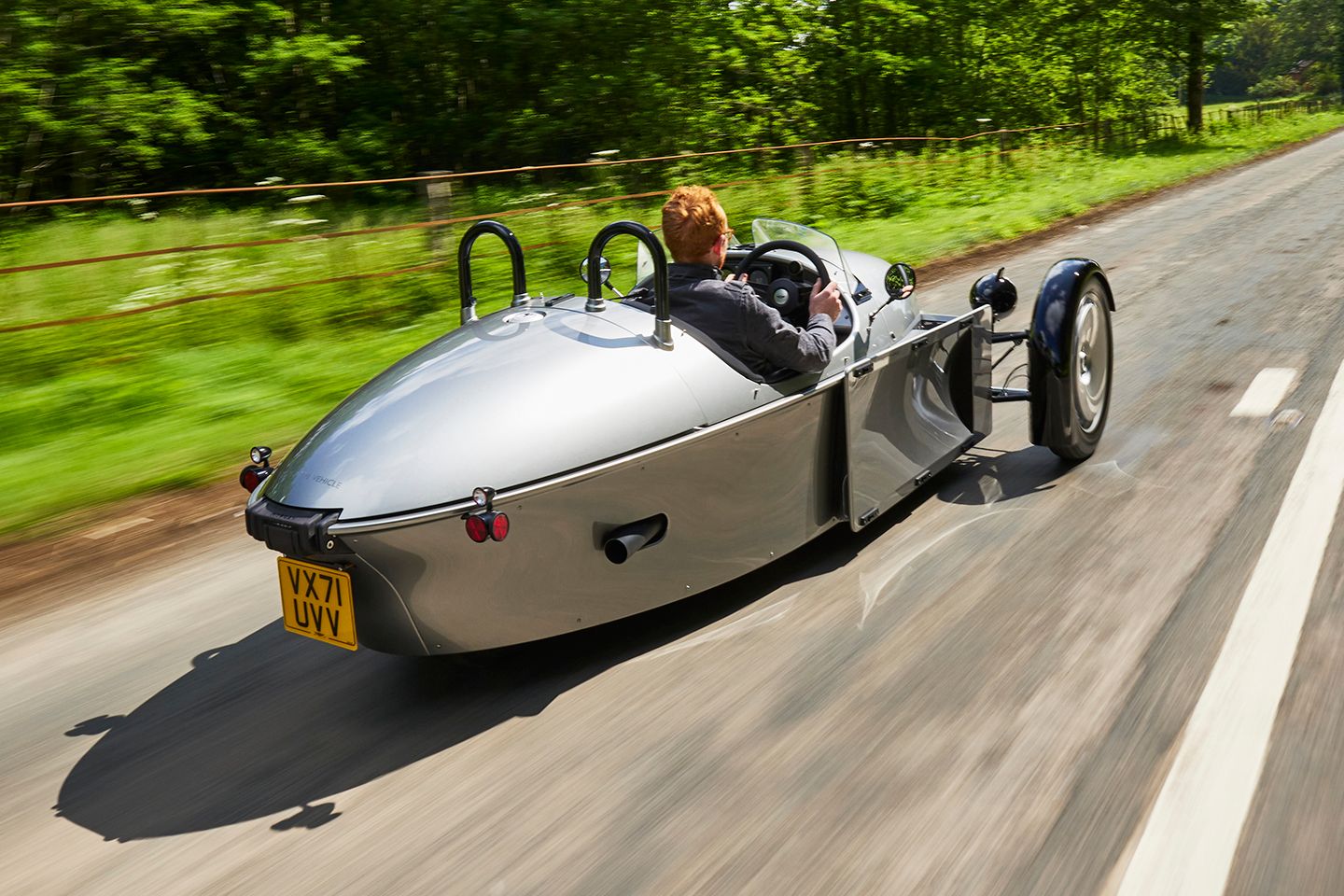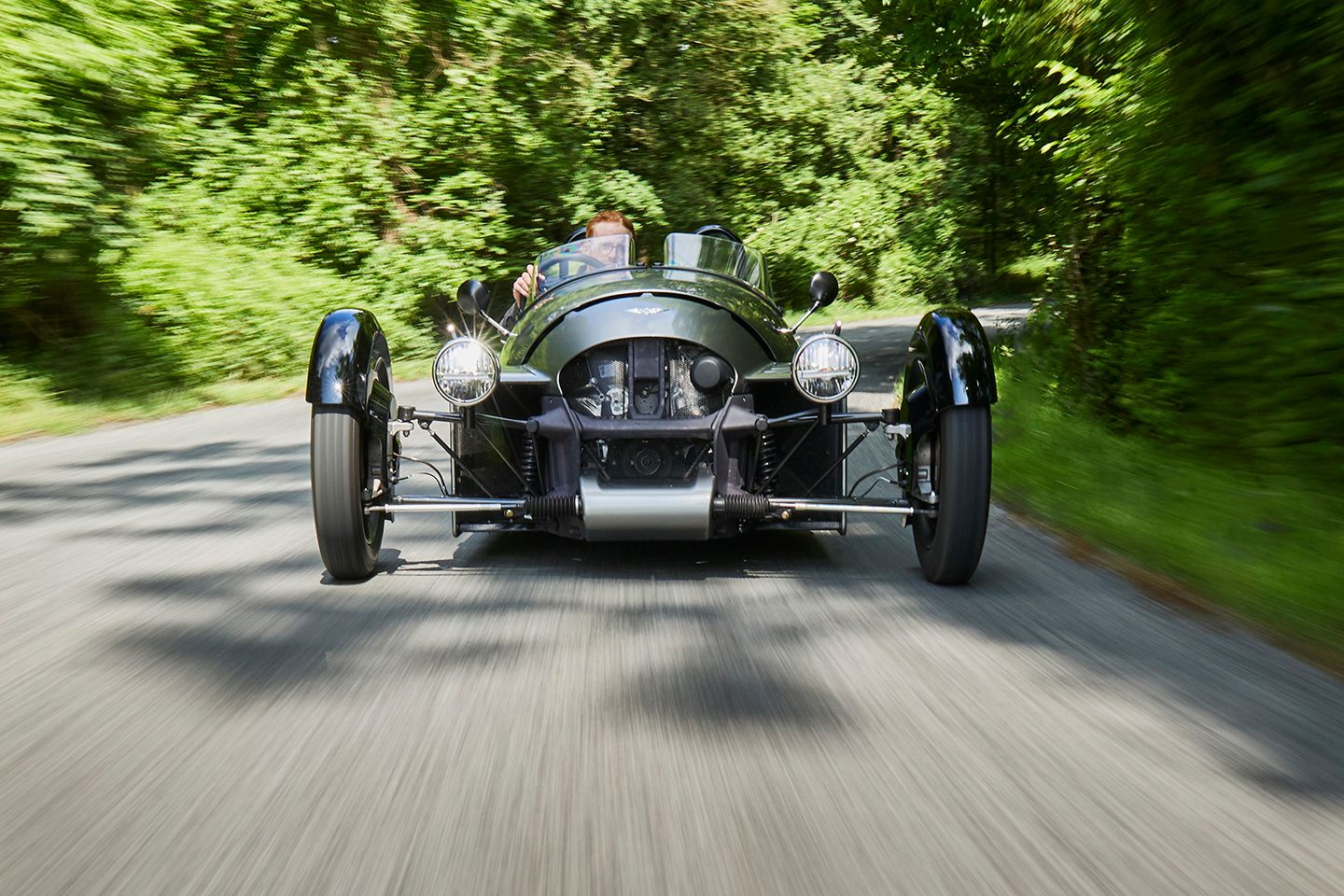 It's a fantastic interior, too, again blessed with some cool little details yet with proper functionality plumbed in as well. The pedal box is the perfect example of that sea change; where previously it required spanners to be moved, the lovely floor hinged throttle, brake and clutch are on a runner, adjustable via a lever under the steering column. It looks great, and it works, which goes for nearly everything else in the tiny cabin. A wheel that moves for reach and rake now as well means even taller drivers can get comfy, though best opt for a small wheel if that's the case to help legs through. The seat squab felt perhaps a tad short as well, though it is easier to get comfy than you might think. Easy to fall in love, too: a starter button under a cover almost feels appropriate here (as do toggles for lights), the two central dials look great, the Beeline nav is smartly integrated right ahead and the indicator stalk with a knurled end is a real work of art.  
The joy of three-cylinder engines is that they tend to offer a medley of all the best six-cylinder sounds, and that  certainly applies to the Super 3 – helped, of course, by how exposed the driver is – and the optional exhaust included here. It gurgles and chunters kinda like a Porsche at idle, then with hints of Alfa turbo V6 and some BMW straight six through the rev range (no kidding). Given the constraints faced by manufacturers now, it's hard to think of a better fit than Ford's 1.5. It isn't the same hunk of heavy engineering as the v-twin, but the little triple ensures a thrummy character. Which is at least half the point. 
The Super 3 is certainly fast, too, albeit in a spritely and brisk fashion rather than the unhinged way a similarly priced Caterham might accelerate. The engine does its best work up to 5,500rpm or so – there's not much to gain from lighting up the dash near 7,000rpm – but the Morgan is soon scooting along a little faster than expected. It's aided by a perfect five-speed manual from the MX-5; hand on heart, the six-speed might be good for cruising (and give more opportunities to shift such a sweet gearbox), but it's hard to imagine many complaints about a shift quality that's been raved about for years. The engine offers more than sufficient performance, with oodles of character and contemporary ease of use, which makes it job jobbed for the powertrain, especially when you factor in a bit of old school transmission whine as well. You couldn't ask for more.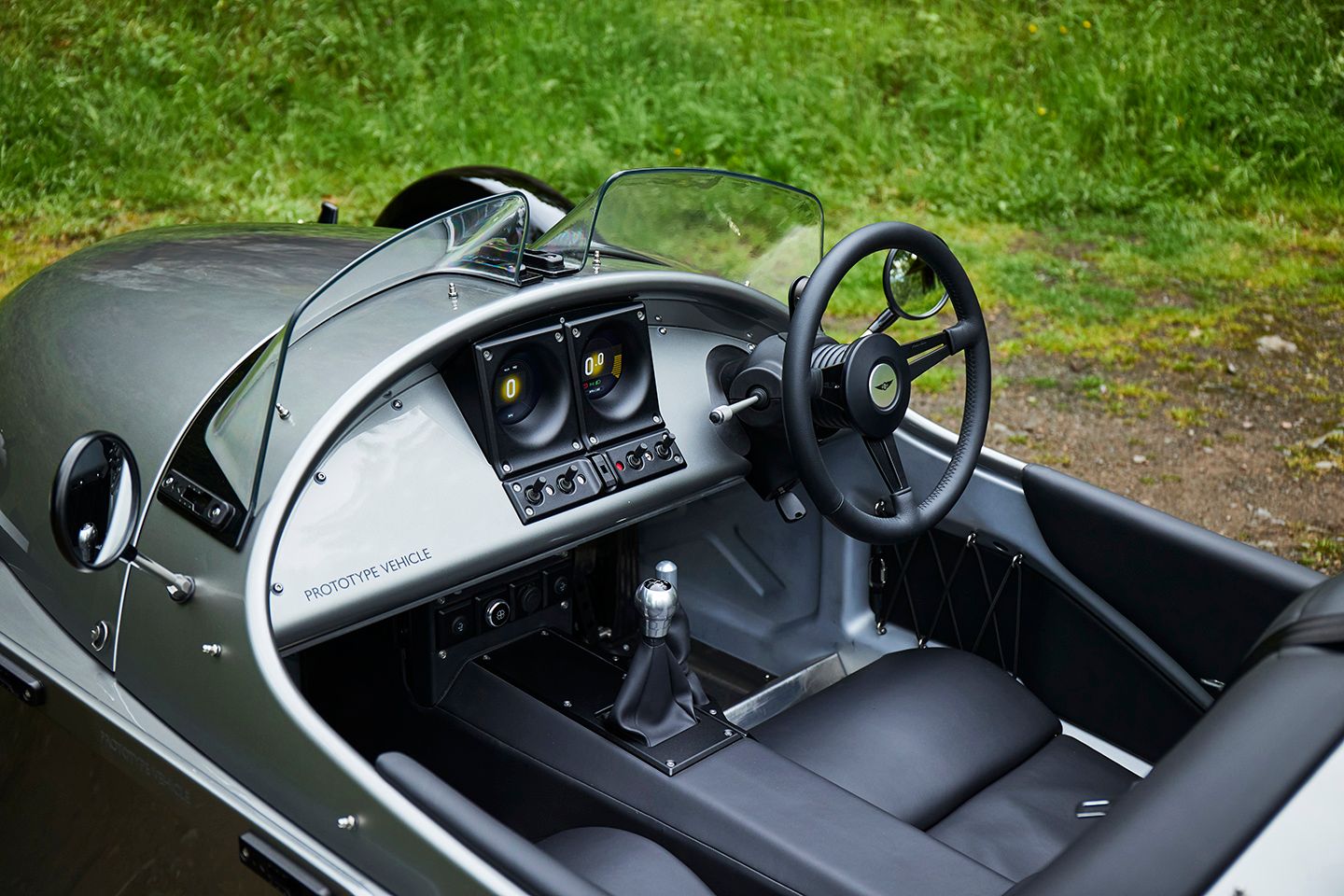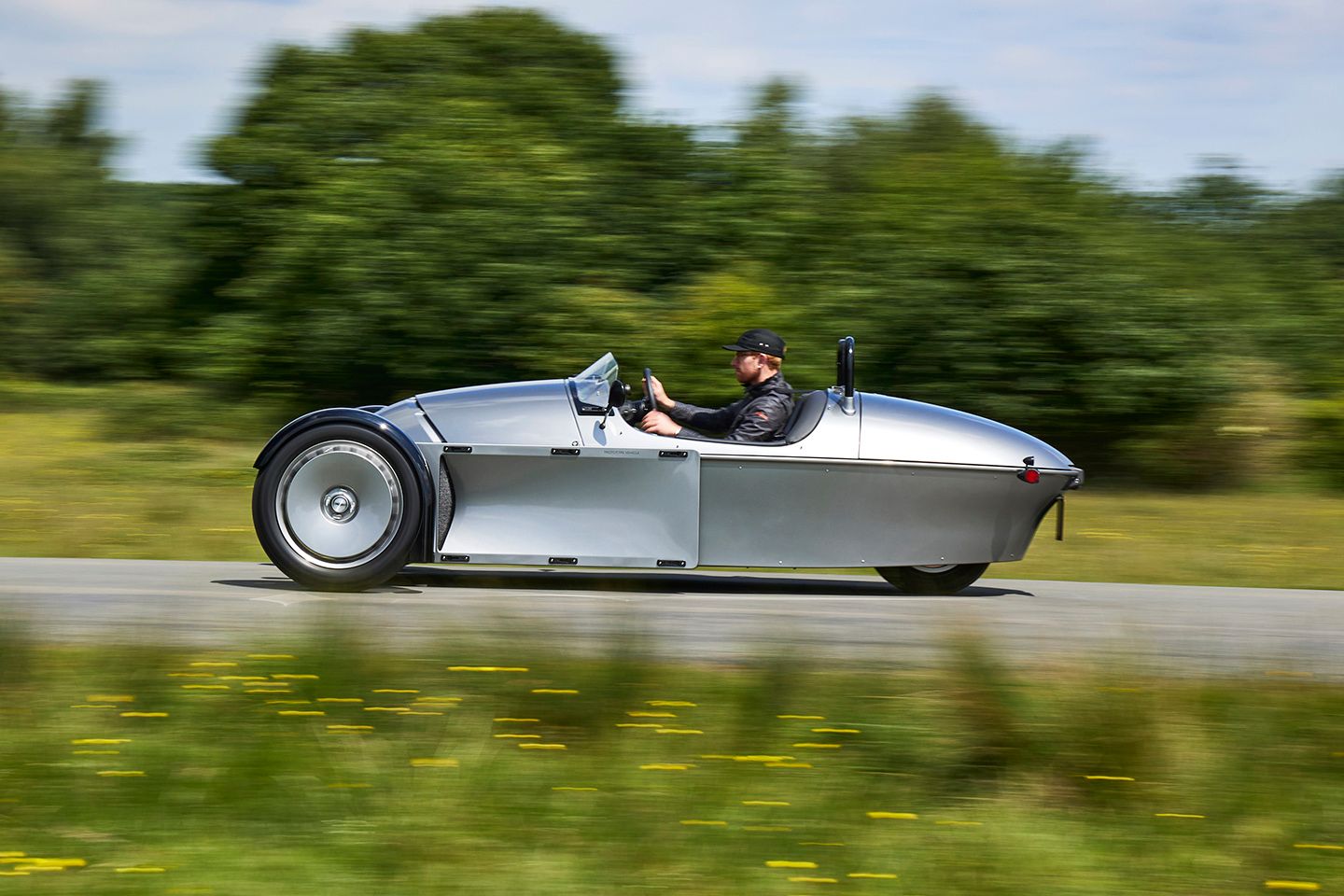 The way the Super 3 drives might be even more impressive. This comes with an important caveat – your writer hasn't driven the outgoing 3-Wheeler. But with recent experience of the new Plus Four and Plus Six, the Super 3 must rank as one of the best-sorted Morgans in history – that development work really has paid dividends. The Super 3 is a really well sorted driver's car, just one that's missing a rear wheel. Everything you'd look for in a lightweight British roadster – fantastic unassisted steering, great pedal feel, all the immediacy and immersion anyone could want – are here in abundance. Yes, the Super 3 is snug (an arm will need to be out of the door as you're kept busy with the steering wheel), and you'll absolutely need a helmet, but here is a Morgan to properly relish the act of driving in – not just hold on and smile.  
There's way more grip from the front 130-section Speedmaster MkIII tyres than their bizarre look would imply, giving real confidence to get into a bend, and the fitment of a rear mud-and-snow tyre means there's fun to be had as well. Even with modest outputs the Super 3 will gleefully squiggle and wriggle from junctions and slow speed turns, which is tremendous fun. The car feels resilient, too, lapping up more immature treatment, rather than barely containing your tomfoolery; the balance between traction, grip and entertainment is near perfectly struck, which hasn't always been the case with a Morgan – and, as colleagues tell me, certainly wasn't the case in its predecessor. 
You would happily drive the Super 3 many miles in many different scenarios, such is the cohesion of the package and rewards that come at all speeds. On this experience, a track day playing Mr Toad of Toad Hall wouldn't be a stretch. Furthermore, with the proviso of having to travel helmeted, those wanting to do distance in a three-wheeled Morgan will find the latest model a breeze (no pun intended); it tracks remarkably well at speed, the engine is gutsy enough and the heated seats are scorching. It takes these things in its stride; just ask all those on a drizzly M5 last week bemused at being overtaken by a bathtub.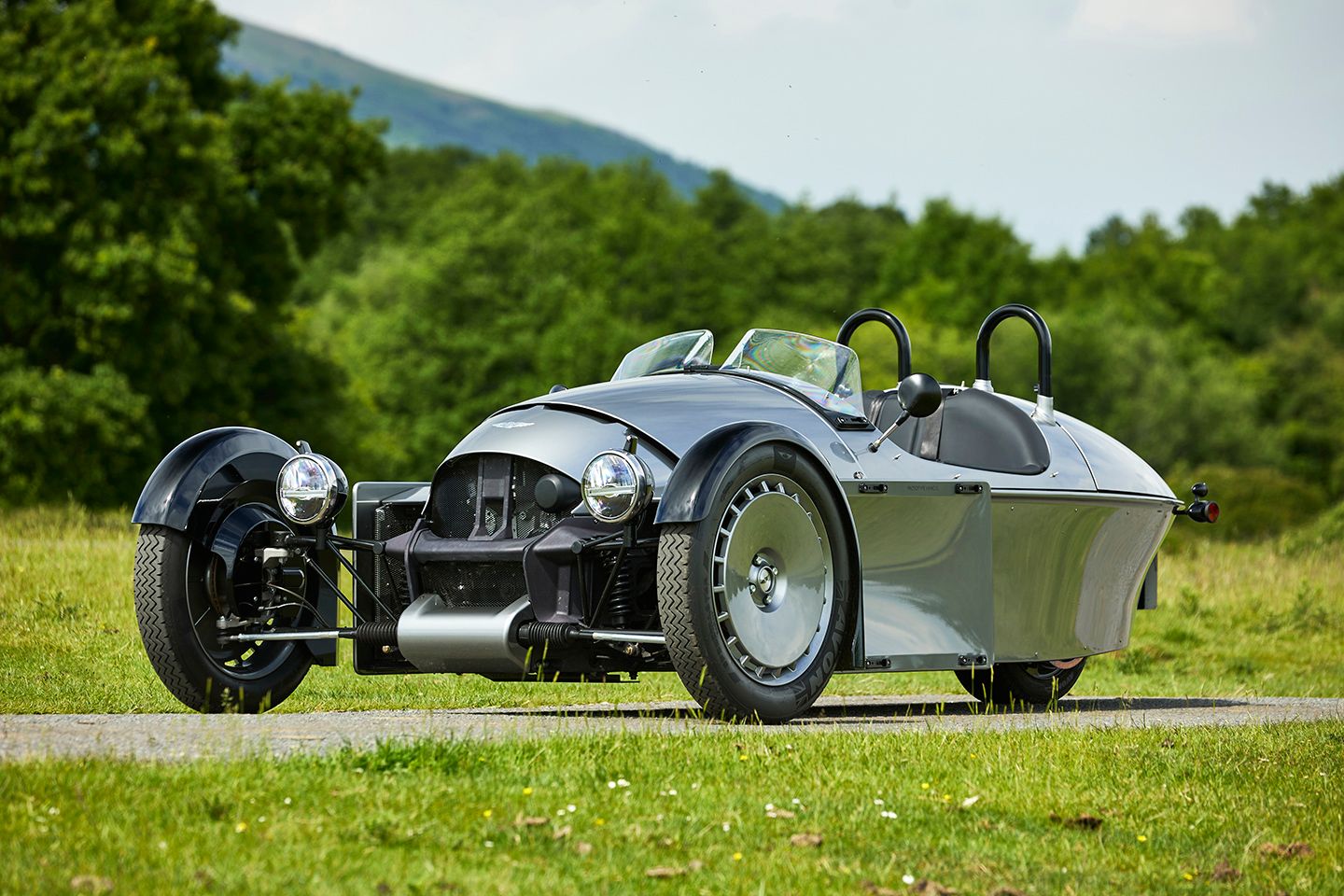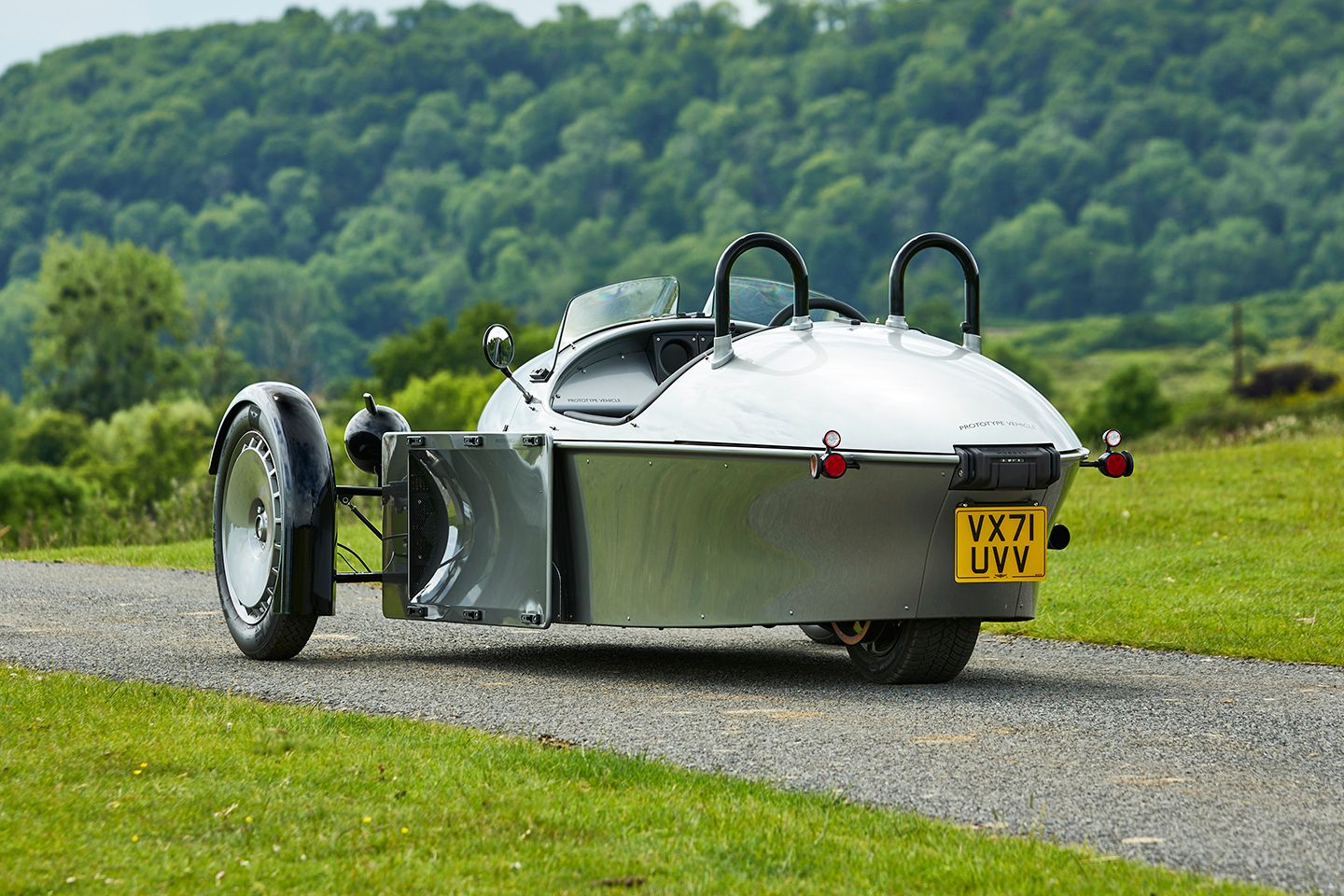 In fact, the Super 3's sense of methodical, all-of-a-piece development means criticisms are few and far between. It feels honed, thoroughly engineered and sophisticated, like all the very best sports cars – which is some achievement in one denied its full quota of wheels. No single element stands out because of the high standard everything is working to, from the way it's built to the way it drives – and it's not often that's said about any British sports car. 
Crucially, too, this newfound attention-to-detail and maturity doesn't come at the expense of desirability. A car that looks and sounds like this on three wheels would never struggle for attention; the fact the Super 3 drives so smartly only makes it more covetable. From those die-hard Morgan customers to anyone upset at the demise of the 1.6-litre Caterhams, lots of people will find lots to like about the new three-wheeler, even with a car like this one (i.e., without loads spent on options) is nearing £50,000. That said, it's already sold out until next July. Don't be surprised if that waiting list extends even further once prospective buyers get behind the Moto-Lita wheel and aero screen. The Super 3 is one of the best Morgans ever. 
SPECIFICATION | MORGAN SUPER 3 
Engine: 1,497cc, three-cyl
Transmission: 5-speed manual, rear-wheel drive
Power (hp): 120@n/a rpm
Torque (lb ft): 110@n/a rpm
0-62mph: 3.0secs
Top speed: 130mph
Weight: 635kg (dry)
MPG: 40 (pending final certification)
CO2: 130g/km (pending final certification)
Price: £34,993 (list price excluding VAT; total recommended retail price as tested £48,599.99 comprised of Tail tidy for £245.83, Low fly screen for £187.50, Side blade rail for £204.17, Cockpit rail for £104.17, Beeline Navigation for £245,83, USB charging points for £79.17, Footwell light for £120.83, Cockpit bungee cords for £145.83, Moto-Lita black 13-inch steering wheel for £620.83, Chassis insert for £245.83, Heated seats for £412.50, LED lights for £829.17, Black exhaust tip for £245.82, Dark grey structural castings for £495.83, Matte cowl lacquer for £162.50, Jet Green side blade paint for £329.17 and Rhodium Silver paint for £829.17, plus £8,100 VAT)